Monthly Archives:
August 2004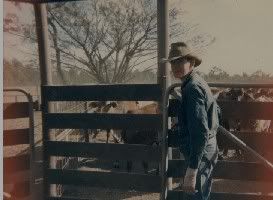 this is fitting as it's the last day of august…



and august for me is my "grief" month…

and I didn't grieve as I usually do…

it's been a little bit bottled this month compared to other years…

perhaps i don't want to feel it all again.



my eldest brother died in a farm accident when I was 14.

he was 25.

he never got to meet his niece and nephew.

he didn't get to meet my partner.



one day he was there, the next he was not.



it felt like for a long time that there was someone missing in the family.

I feel so glad that I'm one of five kids and thus still had another brother and two sisters when he was gone.

He was born with cerebral palsy, and suffered brain damage at birth…

he was a champion though, and never thought of things as limitations…

he was an athlete and a farmer…



The hole is mending bit by bit… but when I think of it… it hurts all over again.



The accident is in my memory, but it still is painful.



sigh



I miss his blue eyes

and him bringing home big paper bags of "teeth" lolly

and his turquoise car

his throaty laugh

and grin



But… I am immensely grateful that I had the pleasure of being his sibling.

That I knew him.

That I got to be a part of his journey



Wherever you are Clinty

I miss you

and love you



We all do.

Today

I am a rollercoaster

Sometimes happy

sometimes brimming with love

Sometimes just okay

sometimes like I'm a bit red raw from scrubbing with steel wool





The words are not flowing out today

they are dripping like a tap





i am unable to write about anything much

so i'll write about my day shall i?



Today we woke up in our spare bedroom. We are getting a new king size bed tomorrow and have moved our bed into the spare room in preparation. It has been exciting, a bit like a mini-holiday of sorts. A change is as good as a holiday. Even if it's just sleeping in your spare room for a few nights.



Had uni this morning. I love my lecturer's accent – he is an ex pom and has a wonderful toffee/plum way of speaking. I am not really listening in his lectures, I just sit and highlight my textbook. Perhaps I'll learn through osmosis. I do find when I get into it though that it is very interesting – the economic history of Aus' relations with Asia.



Work was nice today. My workmates are just so lovely. Had my SARK and my Healing with the Angels cards with me so we had a group card reading session. Tee hee hee. They all dig the cards – the cynical ones too. It's lovely to have open hearted sessions at work.



Me and Deb went looking for a journal for her and our friend Sally at lunch. She ended up buying one identical to mine… they are such beautiful books! Only 22 more sleeps till Deb goes to Haw*aiiiiiiii… how lovely for her!



Also bought Everyday Enlightenment – How to be a spiritual warrior at the kitchen sink by Venerable Yeshe Chodron.



Then on the bus I had a very groovy yak with Paris. He is one totally cool dude. It is absolutely fascinating to talk to someone who is into the same things ~ his sincerity, wisdom and quirkiness are delightful! Simply *talking* to other people on public transport opens whole new worlds of enjoyment, adventure, conversation and friendship.



Reflecting now back on the day ~ I am quite astounded… I realise that the people which most affected me today ~ Deb, Emelisa, Paris ~ are all *new* additions in Leonie World… two months ago I did not know them! How marvellous is this!



It seems very quiet in blogworld ~ where is everyone and how is everyone?





love laughter and quiet retrospective moments

leonie


And how is this for a funny way to end this blog…

Tony Barber singing Polyester Girl! ho ho ho
What a funny lovely world!
When it's over, I want to say: all my life

I was a bride married to amazement.

I was a bridegroom, taking the world into my arms.



When it's over, I don't want to wonder

if I have made of my life something particular, and real.

I don't want to find myself sighing and frightened

or full of argument.



I don't want to end up simply having visited this world.



~ Mary Oliver


From jen gray's website