Monthly Archives:
July 2007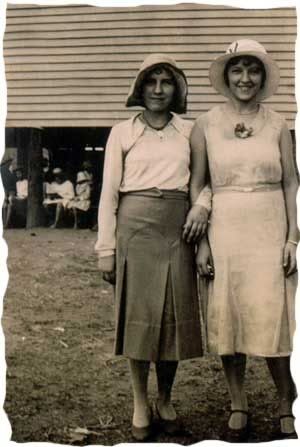 This is my super sassy Granny and her sister Sally in their early twenties.
Tomorrow I am flying back home for Granny's birthday, and a celebration of ninety years of magnificent living.
I want to hold in my heart all the ways my Gran has touched my life.
My friend Shan allocates a special type of description to the women she respects: she says they have "guts, balls, determination and integrity."
My Gran is that kind of woman. She also has a smile that she embraces the whole town with. She has a way of making people feel good and safe with her. She knows things intuitively before anyone else does.
On the phone not so long ago, she said to me
"I think your sister is interested in a suitor, Leonie."
"Really Gran? Why's that?"
"She's been taking to dressing herself nice of late, and she has a little glow around her… I think she might be interested in a young man."
Sure enough, Gran was right. As she always is.

She looks like she has wings here…
And she has SASS.
That woman looks good every day of the week. I took these photos of her in April, and she was wearing spunky pink stillettos, white pedal pushers, a striped pink flowing top and huge white framed "winkers" (otherwise known as sunglasses, for those who do not speak Gran-language.)
I'd just picked her up from the op-shop where she still works a few days a week.
She said to me:
"Leonie, do you know I sold hundreds of dollars of clothes today?"
"Really? That's awesome Gran!"
"Do you want to know why I am so successful at it?"
"Why?"
"Because I model all of the clothes!"
And with that, she placed her hands on her hips, and waggled.
My Gran has SASS.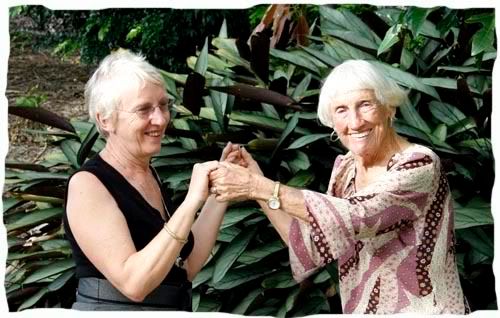 My mum and grandmother, doing their dance of love for 55 years…

The morning before we took these photos, I was driving with Mum, and said to her:
"Mum, I've always felt different. Odd. Unique. A bit zany. Just a bit out of skew with everyone else. I wonder if it's genetic, and where I get it from."
And she sighed this tiny whisper of a sigh, and replied:
"I feel like that too sometimes. Maybe you get it from me. I don't know where I get it from."
And then we looked out over the yellow eucalypts rushing by.
Later that day, I told Granny I wanted to take some photos of her.
And she giggled like a schoolgirl, and said dramatically
"I don't know how to pose though… I'm camera shy… I've never been a model before…"
"Sure thing Gran, we'll just go with the flow."
I turned on my camera, and took some test shots.
"I know! Let's play on the swings!" she says, and she is off with a trot.
My Mum sits on the opposite end to even out the weight.
It must have been quite a sight really.
Three blonde women in hysterics of laughter. The two oldest playing on the swings. The youngest with camera full of smiles.
And there in her little pink stillettos, my camera-shy Gran with her little white bob, bouncing up and down on the swings, yahooing like a rodeo cowgirl.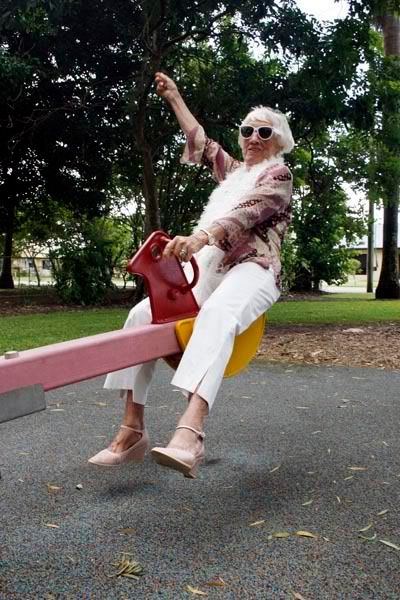 It was at that point I turned to Mum and said
"I think we just found our genetic zany-ness."
This woman must have had ninety years of practice because she sure is good at LIVING.
So this weekend is a gathering of all my family and relatives, and ninety of my Gran's closest friends to celebrate this Woman.
This woman of huge strength, a lion's heart, a mother's courage, a shining smile and crazy diamond spirit. My grandmother has grieved two husbands, two sons and a grandson. But every time I ask her how she is, she replies with a thousand-megawatted smile:
"I woke up this morning. I was still breathing. So, I thought: it's a GOOD day!"
I have so much to learn from this woman. The whole world does, I think.
Happy, happy birthday my beautiful grandmother.
For all the good days that have come before and all the good days to come,
I celebrate and love you with all my heart, and am so honoured to have come from you.
Big love,
Leonie
P.S. If there was any way to get ninety birthday wish comments… that would be oh-so-freaking glorious… I could show her them on Sunday all the wishes from around the world!
All good either way… but just putting it out there 😉
~
Back next week!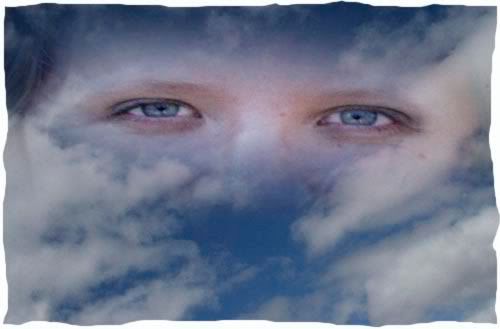 All the ways
to see the sky
in myself:
the long vast days of turquoise summer
the soft greys of replenishing rain
the dark umbre of night emblazoned by Venus and her sisters…
and always,
the vibrancy, the possibility, the sheer expansiveness.
This is what the sky teaches me:
The world is infinite.
Everything is possible.
I relish how the sky is always a part of my paintings too…
always spreading her lovely silken azure wings around my canvas.
Magic falls from her hair,
prints on Goddess of Leonie etsy store
with love and wind,
Leonie
~ More elemental self portraits at SPC
~ More Turquoise Journey here
I've been a (chinese silk dragon embroidered) fan of Magpie Girl since I found her online patch of grass & roosting palace a few moons ago. Her sharings about interfaith, sacred and communal gatherings and soulful living make little red flames in my heart.
Not only is she a priestess of Monkfish Abbey, an urban mama goddess, a vintage cloths connossieur, and a sacred jewels maker ~ she is a writer:artist:photographer who alchemises this trinity of talents into the gold of Zine.


Her newest zine is a delicious mini book ~ 36 sumptuous pages of colour to dive into and soak up for a while. "Tweet" is an honouring of the summer months: all the ways to sparkle and shine in the sun. Precisely what I need really, considering over this side of the planet, we are in winter.
And in winter tradition of the alpine country, I've managed to pick up a flu named Pharyngitis, which sounds like some kind of exotic spanish dance. I like to make up little songs in my head about fa-fa-farangitis, imagining it to be cocoa-skinned, wearing a dress with many fru-frus. I've been spending inordinate amounts of time lying on a beanbag watching my dog as he falls asleep, then letting him watch me fall asleep. If there was ever a way to get me to stop doing everything at a thousand miles an hour, fa-fa-farangitis is the way.
Needless to say, I've been reading Tweet while soaking up all the droplets of sunshine that fall on my bed. A perfect balmy sunkissed fruit concoction for my wintertouched spirit.
Stories, prayers, saint goddess collecting cards, recipes and sweet surprises:
I think Tweet (and zines in general) might just be playbooks for us adult children.
Maybe they should hand them out on airplanes as adult activity packs!
You can get yourself some Tweet-a-lage at Magpie Girl's etsy store!
In the meantime, I am off to make myself another cup of steaming healing fruit tea (inspired by my healing herbal wise woman friend Sone)…
For you in winter, and you in summer ~
dream this baby up!
Healing Magical Unicorns Fruit Soother
* Three quarters a glass of orange, passionfruit or apple juice (or combination of all three… combo is extra ju-ju magical)
* Tablespoon of honey
* Three whole cloves
* Six cardomom
* Splash of water
Warm, savour, enjoy and melt all resistance away…
Blessings to you, from me,
with gifts of warmth and joy,
Leonie