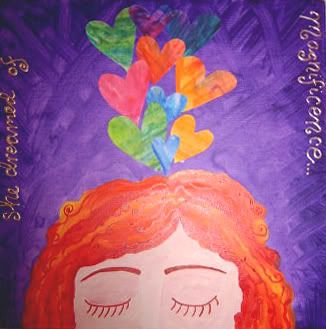 she dreams of magnificence, mixed media on canvas
When we cannot bear to be alone, it means we do not properly value
the only companion we will have from birth to death – ourselves.
Eda LeShan
I'm working busily and bustily away at new and exciting projects.
I'm so excited to be having my first solo exhibition at blue roof gallery in Tharwa next month. More details to come!
in the meantime ~
:: i've been drinking up a wonderful tale in suburban self-sufficiency in "living the simple life"
:: i love swirly's analogy telling of the cabinets of our spirits
:: and coyote's sharing of soul mining
:: i managed to re-stock myself with the most *amazing* chai in the world this morning

:: on an adventure to the national gallery, me and chris agreed our favourite piece was trent parke's "minutes to midnight" photographic series. seriously good stuff.
:: cherishing some sacred chants and poetry
:: and i can't wait for the sun to rise tomorrow morning so i can go forth with our new canon 30d camera. excuse me as i go and paw at the feet of its loveliness.