Hola gorgeous goddesses!
I'm pretty sure you're just like me – whenever you hear about starting a business, there's that staid old advice:
Write a business plan.

And we WANT to start glorious, booming businesses for those creative & spiritual passions of ours.
But ugh. A business plan. It sounds SO stale. SO boring.
Here's a little secret:
And in six years of business goddess-ing it up, I've NEVER put pen to paper and written one.
Here's the problems with writing a business plan:
It's a bit like trying to predict the future.
It's mostly useless. (Except the marketing plan component of it.)
It's really only required when you are seeking finance from a bank or trying to win a business award.
All in all, not super helpful when it comes to diving in there, making miracles happen, and getting your hands all dirty with the fertile fertile soils of abundance.
Here's the problem with NOT writing a business plan though:
You forget the vision of your business. What it is you set out to do.

You need a guiding vision. Something to keep your wheels firmly on your own track.
So I haven't got a business plan.
But you know what I do have?
A business plan dreamboard.
My magical & enlightening friend Jenn Lee, the creator of the Right-Brainers in Business summit & the author of The Right-Brain Business Plan taught me this many moons ago.
She calls it the Right Brain Business Plan (a business plan for the rest of us creative, spirited goddesses).
And it's something you should totally make.
Here's the thing. We are not linear, left-brained, numbers-orientated goddesses. That's not what makes us sing. That's not how we live in the world. So we need a business plan that fits us. That works with these glorious brains of ours that work with images and feelings.
Business plan dreamboards? They are a perfect infusion of getting clear about the spirit of our business and creating a guide for us to build it.
So I invited lovely Jenn to share her own business plan & tips here with us, to inspire us to make our own.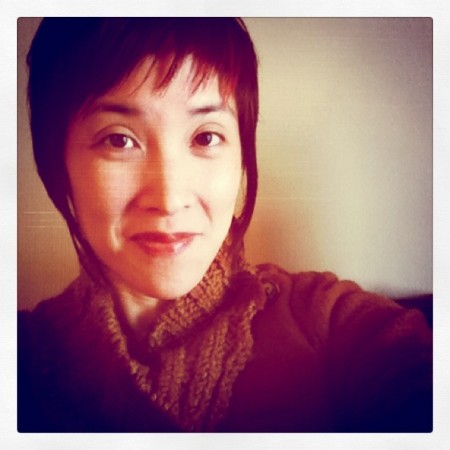 What does your business plan currently look like?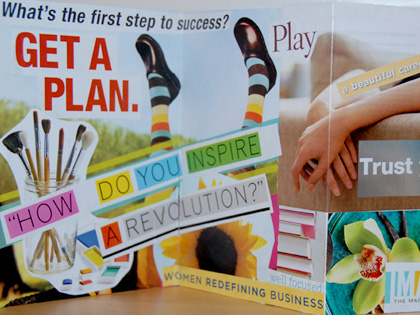 My current Right-Brain Business Plan surrounds me in my creative space.
There are many components:
There's an easel of collaged values cards on my desk
a bulletin board with my big-vision collage and creative cohorts map
my perfect customer portraits and other notes displayed in a card carousel
and my entire wall sized calendar/sticky note project plan.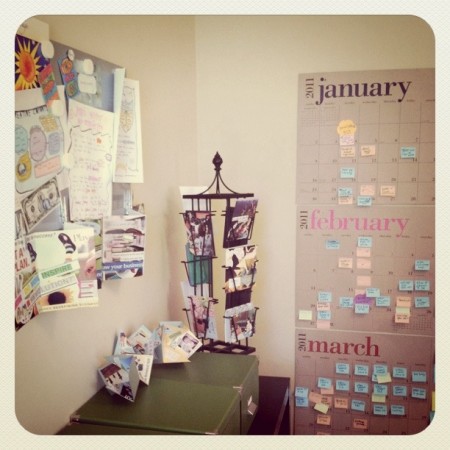 What business goals do they show?
Freedom and flexibility to grow my business
Inspiring a revolution
Play and fun
This can be easy
Trust yourself!
Where do you hang it?
Like I said, I'm enveloped by it!
The main touchstone is my big-vision collage and that hangs on my magnetic bulletin board.
What's your top 3 tips for creative business entrepreneurs?
1. Trust yourself.

You know more than you think you do.

2. Surround yourself with positive, supportive people.

Ones who will encourage you, challenge you, stretch you, and give you a good, loving kick in the pants when needed.

3. Be willing to take risks.

You won't know if something's going to work if you don't take that first step.
Hurrah!
Thanks Jenn for the glorious tutorial!
Inspired? Me too!
And the next thing you should do?
Go check out the Right Brainers in Business Video Summit. It's happening this week. It's FREE. And it's filled with business gods & goddesses sharing all their wisdom. I'm presenting on March 10.
Did I mention it's freeeee?
So many tools for that glorious Business Goddess medicine bag of yours.
I so hope these fill you up dearest…
I'm wishing you the best of the best, the most glorious dreams come true,
Time left until Academy prices double: