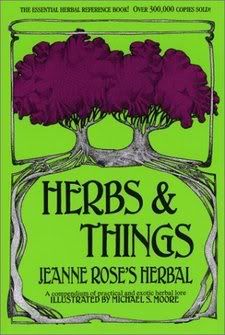 Herbs and Things by Jeanne Rose

I've found a new favourite thing to do at lunchtimes:
wander up to the bus interchange and discover the stores there. The bus interchange here is a T shaped junction of noise, drug addicts and a smattering of eclectic bookstores and shops wedged between larger retailers. I like to amuse myself by thinking I'm in Sydney or some far off metropolitan Adventure-Town.
Yesterday I found a second hand bookstore with that fabulous musty second hand bookstore smell. I miandered about the overflowing shelves for a while taking in all the treasures. I returned with my love today to show him the treasure, and secured myself the above book: "Herbs and things." Last week at the Diaru Centre I learned about herbal lore, and this was one of the books recommended.
Closer inspection of the book has me in fits of giggles. Being published in 1972 lends "Herbs and Things" a more psychedic quality than I had expected.

Want to know how to make Peyote Butter? Dates and Figs Hashish to serve over ice cream? Apparently Marijuana Butter is "very delicious and mild tasting." The Peyote Butter comes with a warning of sorts: "You may see God."

There is even a chapter on "Forbidden Secrets" and a recipe "To Enable One to See the Fairies."
A delightful find indeed, even if I already see God and the fairies without butter.
We finished our walk by securing some red bean dumplings from a Japanese cuisine hole-in-the-wall, and eating sushi in the spring sunshine.
Today's Lunchtime Amusement and Adventure Value: 10/10