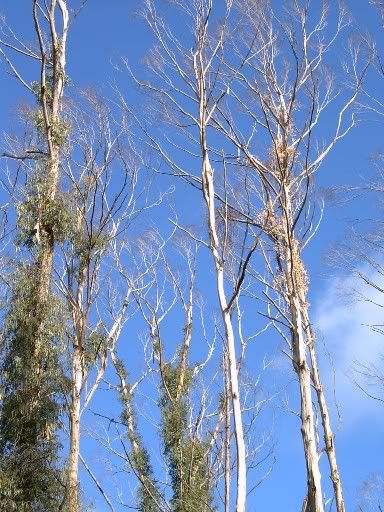 * Trees at Tidbinbilla National Park. Grow grow growing. *
Trees are so smart

They grow every day!



At Tidbinbilla National Park, the area was devastated by massive bushfires a year ago. To see the regrowth today is such a wonderful reminder of how horrible events can slough away the dead bits and lay bare vulnerable bits just ready for new growth….
From "Transitions ~ Prayers and Declarations for a Changing Life"

by Julia Cameron

A wonderful book that inspires me each day
"… that is what learning is.

You suddenly understand

something you've understood all your life,

but in a new way."

– Doris Lessing



A change in perception can be just as radical as turning on the lights in a darkened room.

Suddenly we see what we could not see before.

Our eyes are opened.

Our necessary path becomes clear.

Such breakthroughs into clarity can be shocking, even painful.

What I now see is an uncomfortable truth.

I must change to accommodate my unsparing viion.

I must accept what I have long denied.

In times of such poignant awakening, I must be patient and gentle with my startled self.

Clarity is the bedrock of an honest life.

That foundation is what I am building.
~
Today I gently and resolutely face different truths.

I open my eyes to facing that which I hav found unfaceable.

Remembering that sight brings insight,

I invite the sunlight of the spirit to illuminate my life."