.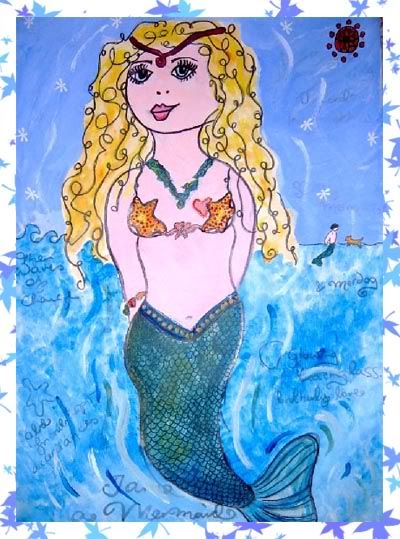 mermaid dreams. acrylic on paper.
for illustration friday's theme: aquatic.

"Two fish met in the Atlantic Ocean. The first fish said he came from
a part of the sea inhabited by savage sharks. He spent a half-hour
describing his dangers and hardships. Several times he mentioned his
heroic service in saving other fish from sharks. "I don't wish to
appear immodest," the first fish concluded, "but I suppose you could
call me a suffering hero.
The second fish came from a safe and quiet part of the ocean, which he
described to the other fish. He added, "There is no need for heroics
there, for no one ever attacks anyone else. Follow me and I will show
you this peaceful place."
"Don't be foolish," exclaimed the first fish as he swam away. "It
isn't every day you meet a suffering hero."
PEOPLE PREFER THEIR VANITY-BASED IMAGINATIONS ABOUT
THEMSELVES OVER REALITY AND PEACE."
~ Vernon Howard. From the Daily Guru.