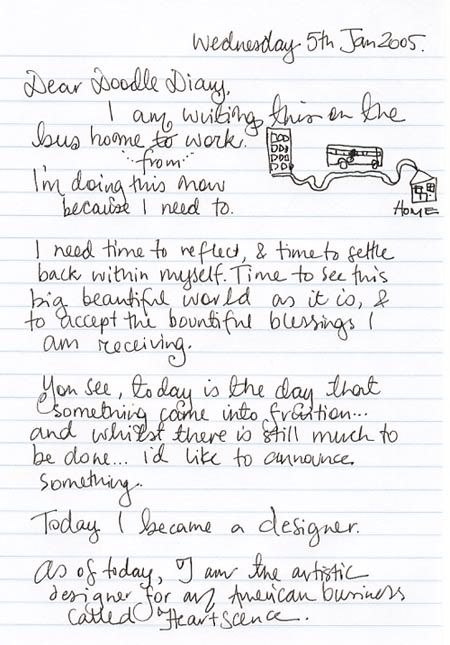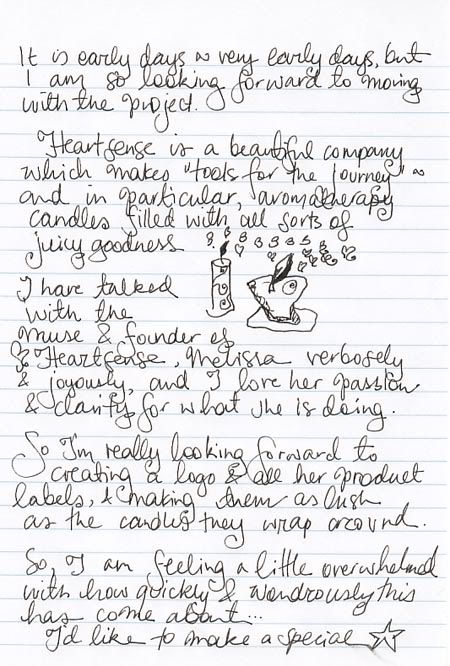 Notes from the Moment
~ My gosh, in my enthusiasm I didn't even spell it right ~ HeartScents! Bless you Melissa! I am so looking forward to making designs to wrap around her beautiful products.
~ Also, the reason I post my doodle diaries a day late is because I often create them late at night, and then scan them in the next evening. When I become a full time artist, I will post that day, I promise. Not sure when that will be, but I just wanted to put that out there.
~ Looking forward to lunch tomorrow. Me and some groovy party people (including Ben, Di, Lile and some other workettes will be grooving on down to Montezuma's for some nachos and sangria!)
~ I would like to have a Care Bear dress up party one day.
~ I am wearing a yellow shirt and just had singapore noodles for dinner. Tasty.
~ I really really love surprising my partner/boyfriend/de facto/blah blah/lover/other half. I gave him the rings last night which was really wonderful, and he loves his. And today I was up at the shops getting aforementioned singapore noodles, and bought his favourite chocolate. It is now chilling in the fridge until the right moment to surprise him with it.
~ My dog is golden, and my dog is cool beyond words. He is a bit sniffy at the moment, but I am going to give him a bath on the weekend until he smells fresh as a daisy. Then I shall proceed to call him Daisy until he feels confused.
~ Bought some excellent new sandals today. Yay me. Like the ones on the link, but they are black, and they look much much more cuter on my feet.



~ You may have noticed, but am in rather silly mood tonight. And am feeling v. Bridget Jones.
~ Lile came back to work today. Thank God. I missed her! And then I told her that I had volunteered us to move into another cubicle. Ho ho ho. So we moved our computers, and Lile's gigantic Kinder Surprise collection, and her Dilbert comics that she has plastered all over her cubicle, and all my photos and pictures and knick knacks and rocks and collection of mini stuffed animals including a sheep which bleets, and a squishy cow named Sheila, and two elephants. We have decided offically that our beige cubicle will become a Palace of Joy, Hope and Wonder. There will be gentle conversations, and SARK, goddess and angel cards on the table in the middle, and people will be drawn to our cubicle kingdom. We are going to make some colourful paintings to hang from our grey filing cabinets. We will revolutionise the public service one colourful knick knack at a time.
~ I am in love with a really beautiful man.
~ And you know what? Even when I have so much to be grateful for, I can find myself lost. Lost without happiness in moments, not even sure if I will find it again or if I had even found it at all. But the moments pass.

Of that I assure you.
Time left until Academy prices double: