She wraps herself in rainbows, acrylic and mixed media on canvas.

I have so much to share in the coming days…
but for now, some sleep and connecting in with my soul is in order.
I want to thank you all deeply for the rainbows of emails, comments and love I have been receiving. I take them deliciously into my heart and make them a home there, on rugs with stories and blankets that always seem to get paint on them. If you do comment ~ please leave an email address if you can… I would like to email you back & connect. 🙂
Thank you for your open heartedness, willingness to share, enCOURAGEment, and celebration of all things spirit. Thank you for believing in the healing miracles of rainbows and art just as much as me.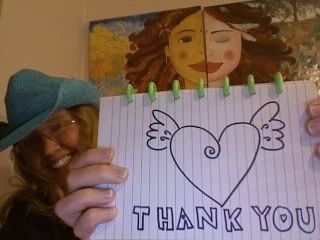 And thank you, Sky Fairies, for being so dang magnificent, and reminding us who we are in shimmering glimmers between one breath and the next moment.

You are joy, and you are love, right now, right here.
I believe in you,
Leonie