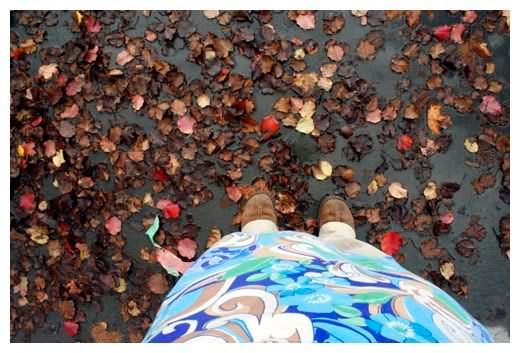 autumn woman
In the spirit of lush Liz's fantasy tea dates, I hereby invoke my dreamtime dangerous tea ensemble
I would invite SARK, Julia Cameron, Jewel, Linda Goodman, Sarah ban Breathnach, Lynn Andrews, Fiona Horne, a dreadlocked yogi goddess, my dearest friends from around Australia, Ruth Ostrow, Jennifer Louden, an empathic chimpanzee, Toni Childs, Amelie, some delicious bloggerettes from around the globe, Sally Morgan, Anais Nin, Brooke Medicine Eagle, Doris Day and Janeane Garafalo.
My token male would be Roald Dahl, who I regard as a dear uncle to me.
We would meet at a place named Hotel Divine. There would be delectable orange and poppyseed muffins with too cute glace orange slices quivering on the white puffy icing. There would be the World's Most Extensive Range of Herbal Teas (possibly handcrafted by my friend the Wild Shaky Mountain Herbal Medicine Woman). There would be piling steams of pancakes with thirty varieties of toppings. There would be vintage photobooths that you slot your own camera into, with a variety of themed backgrounds you could choose from.
There would be booths and a checkered floor. And we would know the name and intimate details of every waiter and waitress who greeted us as "dahhhhlinks." Sometimes our waiter would be David Hasselhoff, just for shits and giggles.
I would wear fabulous "fru fru" skirts (named by me and Lile after floaty long skirts) in all shades of magenta and turquoise. And a blue Bonds singlet with a fabulous shawl wrapped around me. Preferably barefoot, or sandles. And I would have a fiery sparkly halo that fizzled in all colours of sherbet.
I would take with me bare hands for holding, a watercolour paper journal for dreaming in and my dear Canon. Most of the times I only take photos of napkins though, as what happens at Hotel Divine stays at Hotel Divine.
It would be dreamy divine hilarious raucous illuminating naughty blessed delicious wide open wonderful…
And just personally, I think it would be dangerous, in a tilt-the-world-changing kinda way.
You can play the Dream Tea game at Liz's little room of delights.
Cupcake out, honeys
Leonie
Time left until Academy prices double: