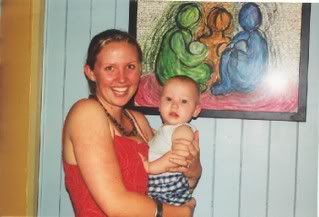 the last time we spent much time together…
was when i was younger and he was a baby…
and now he's a boy…
Joshy and proud Aunty Loney
Hey hey divine hotties,
just wanted to blow kisses and flecks of dandelions ~
I am off on a jet plane to spend a week with my family, painting and creating, playing with the-ones-who-still-believe-in-fairies (children), roadtripping in a ute with my lil sista, enjoying simple and loving times, walking in the warm tropical weather, dust flecked on my legs, photographing the women in my family.
All I had to do was say YES and jump into the possibility.
Wishing you the same courage and love.
Until I return ~
have a universal ho-down!
Love and light,
Leonie
P.S. I like what you've done with your hair today. Natural is always gorgeous.