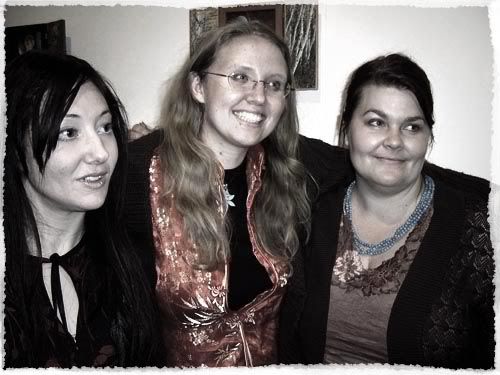 Louie, moi and Raquel… circle sistas!
Chris and I had the pleasure of going to the Shrine exhibition opening last night ~ starring my divine artist friend and womens circle sister Raquel.
I had Raquel as a Featured Artist on my blog eighteen months ago, and I made this prediction:
"One day soon there will be a gallery with her work in it!"
It was inevitable of course ~ but that doesn't stop just how delighted, proud and honoured I felt to be there to witness it.
I loved how people would stand in front of her perfectly four formed, collaged shrine boxes, entranced by the imagery in them. They were brimming with beautiful imagery put together in such a meaningful way. Raquel's art is filled with spirit, and each evokes some archaic archetypal knowing inside.
Last night I stood before her Mother/Midwife inspired artwork (see below), and felt a swirl of emotions. It sang a song into me, and I didn't know the words but a part of me knew it instinctually. The full moon, the venus of willendorf, the careful nest of straw and feathers, the picture of a uterine lining, and in the middle a seed with the face of a foetus. It was powerful and moving.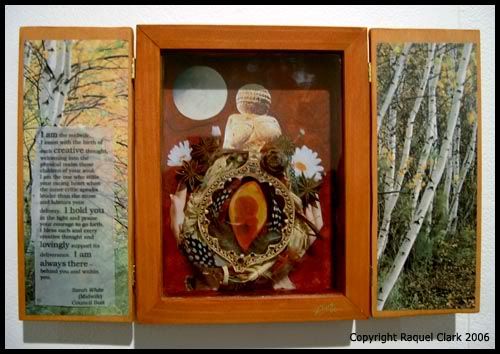 The Shrine exhibition features eight women artists, honouring the divine in so many ways. I was so touched by the diversity of honourings: from Raquel's triple goddesses, to Fatima's amazing wood and sand shrines for islam, to a series of colour drenched images of roadside memorials. Art, women and spirituality: I was in heaven last night.
The Shrine exhibition is at the ANCA Gallery in Dickson, and will be running until 28 August.
Gallery hours are Wednesday – Sunday 12 – 5pm