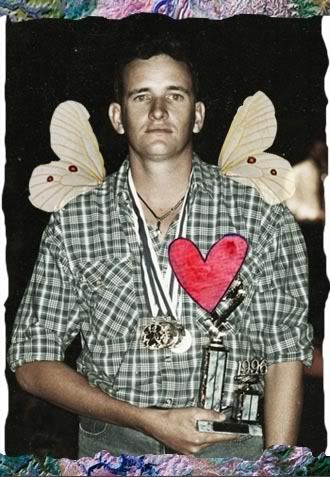 Dear Clinty,
It's been ten dear years since you left this world for the rainbow journey.
I have been through times of deep grief, disbelief, longing and missing. Now mostly though, I just feel incredibly and intensely blessed that I knew you and loved you, and love you still. I have discovered how expansive love truly can be (even as the tears rumble down cheeks like thunder over mountains). And babe, I've learned about all sorts of magic and miracles like kinship and starlight and spirit and healing and myself. Thank you, my brother. Thank you.

I want to honour the beautiful things I remember about you –
the way you smelled: a mixture of smoke and candy and cologne and sweat
your cackle
your big heart and sensitive soul
the way you loved your little sisters and brother
your little blue car that was always filled with white bags of milk bottles and candy teeth
how happy you were on the farm
how funny you were
your long arms and legs that you inherited from your dad
those baby blues of yours.
I was watching Enough Rope last night, and Susie Maroney was interviewed. Her story made me think of you so many times.
She had cerebral palsy just like you. She was an athlete just like you. She did things that nobody else in the world did just like you.
And she lost her brother too.
And through all her tears, she said:
"I'm just so proud that he was my brother."
Just like me.

Last week, back at home, all of us:
Mum, Dad, Mary, Brett, Becka, Sharne, Graham, Chris, Joshy, Alyssa and me – we went to the stone with your name on it and smiling face,
and we sat around in a circle in the graveyard, your stone included,
all of us laughing, sharing, sitting in silence, teaching our neice and nephew about their Uncle Clinty.
Mum cracked open a jar of barley sugar as a little tribute to your sweet tooth, and we all ate them, leaving one on your grave.
Looking back I think about how remarkable we are.
A family sitting in a graveyard, eating lollies with their brother.
We always were remarkable.
That's what love does to you.
Big love,
Bony
P.S. How are those stars up there?
I bet they are just beautiful.
Time left until Academy prices double: