.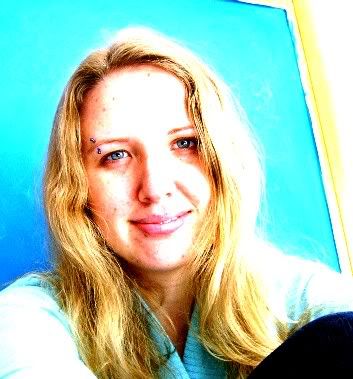 I take deep breaths this morning
and step into a destiny.
I have wanted this for so long. In my teens, I used to hold my eyebrow when I felt in need of strength.
I decided a couple of weeks ago.
It's now… or it won't happen.
I don't want to live my life with an unpierced eyebrow.
So I book my appointment.
I listen to all the nay~saying,
but I consult with my heart, and she knows what she wants.
I speak with my spirit. It tells me all will be well.
So I select the blue barbell.
I lie softly, peacefully on the white vinyl.
I meditate on a candle flame.
The forceps holding the skin tight. The lightning pierce. And then it is over. I scarcely believe it. My eyebrow is pierced… finally.
It is my wedding ring to myself.
Leonie, I promise to treasure your dreams. I will chase them with you and for you. I will hold to your truth, and I believe intensely in your intuition. I love you, and commit to you.
I walk the length of the yard, up and down,
and I feel like I have stepped into the body I've been waiting for.
I feel more normal in my incarnation as Leonie than ever.
The truth, the love, the dreams come pouring out.
A pierced Leonie.
love,
me.