.



i created this YES blessing flower for my dear friend andrea's birthday today.
HAPPY BIRTHDAY ANDREA!
I adore her for many reasons ~
:: she is sweet and unassuming
:: when she asks people how they are, she is genuinely interested.
:: she has the most beautiful open heart
:: her aura is the most striking turquoise blue at times
:: her laughter fills rooms
:: she is an elixir of hope, gentleness and warmth
When I painted this, I thought of her. The way she approaches life.
Her beautiful family. The ancestors which surround her.
The way she shares.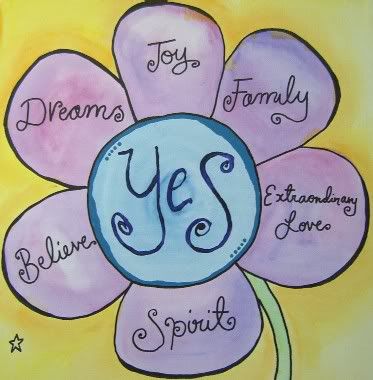 i am so very grateful for the beautiful women which surround me, and share the stories of their lives and days.
People are like stained-glass windows. They sparkle and shine when the
sun is out, but when the darkness sets in, their true beauty is revealed
only if there is a light from within.
~ Elizabeth Kubler-Ross
Time left until Academy prices double: