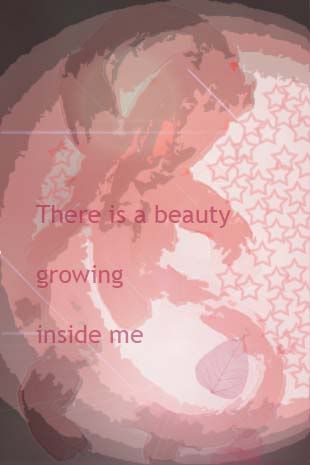 A beauty is growing. 2004/2005, composite art
As some of you may know, I am writing my first book, which will be self published at the end of February ~
I am asking for submissions to the Post-It Note People Pages/Heart Classifieds which will be included in the back of the book

similar to "Classifieds" in newspapers ~
They can be devotions of lurve, events, births, marriages, late valentine's messages, silly notes just to get your name in my book, love notes to yourself, messages to friends, limericks about your dog, congratulations, awards, secret secrets, graduations, love notes to your partner or best friend, what you are proud of, ads for your own websites, birth of a litter of pups, impending births and welcome to the worlds, the amount of rain you had last week ~ ANYTHING that has touched your heart of late, or that you'd like to share with the world.
Cost is free ~ you just write what you'd like on a post-it note or similar size piece of paper ~

mail it to me… email me (leonie[at]gmail[dot]com) if you'd like to participate ~ I'll email you my address 😀
I need it at my place by about the 21st of Feb ~ so send, send, send away.
~
My beautiful friend Leigh has just released a compilation book of her poetry!!!!!!

Hurrah! Leigh ~ Phoenix Light is entirely divine… her words enunciate that language~less emotions of the heart… her simple poetry speaks BIG to me… words of journeying, of beauty, of life, of lessons. The best US$5.59 can buy!
~
Check out Jeff Pitcher's sublime music. I've been reading his blog for yonks now, after miandering onto it… then realised just now I should check out the tunes! Booyah! They rock!
~
Adored Dooce's Letter to her one year old daughter.
Time left until Academy prices double: