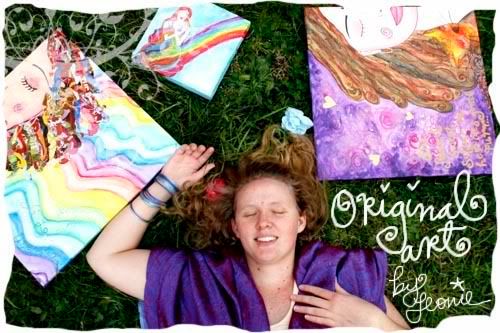 I invite you to the official launch of my Etsy store ~ http://goddessofleonie.etsy.com
(Click here for Original art and here for Art prints). You can purchase my original artworks through my little Etsy chapel of creativity, as well as, for the first time, fine art prints. (Australians, please note Etsy is in US currency).
At the door are steaming mugs of dandelion tea,
basketfulls of rainbow shawls,
round plates of caramel tarts,
soft, full blooms of roses,
flecks of bindis.
I invite you in with a hug of angel wings
and a great big smile ~
Thank you For Being Here.
Folksy, soulful, earthy music is playing…
Candles are lit, and the room is enchanted with joy.
Adorn yourself with your dreamiest outfit
and allow yourself to be filled up ~~~
(Please make yourself a cup of tea, put some beautiful music on, make yourself comfortable and enJOY)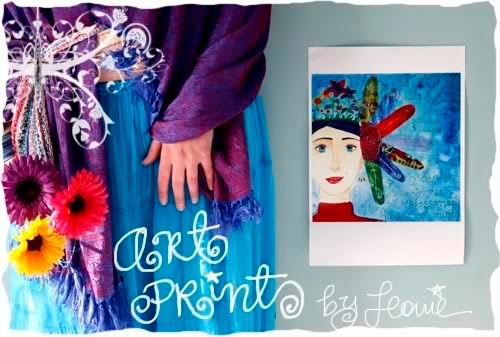 I have spent some deliriously divine days with my hands streaked in paint,
putting into paint the dreams, visions and possibilities in my soul.
I feel so deeply blessed to be living my passion, and hearing my calling so strongly.
I offer these creations to you with open hands and open heart, in gratitude to Great Spirit and this magical world we live in. I offer these artworks as a celebration of joy, love and light.

May you always remember that Joy is an option.
From the Goddess in me, to the Divine in You ~
I honour you.
With love and light,
Leonie