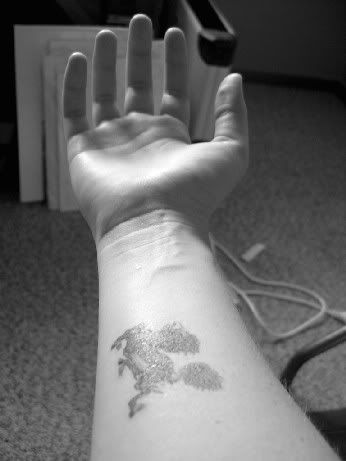 Today. My Arm.
Had a mini adventure today.

You see, I have been muling over lately the prospect of a tattoo.

So, today, I thought:

Well, let's DO IT!
So I did.
I now a wonderful dragon on my right arm.
And, yes, it will wash off in a couple of days,

but for now, I have a dragon on my arm.
A dragon which reminds me:

Be courageous Leonie. Feel the fire in your belly.

Speak your truth, and be your own woman.
This has been the most wonderful expedition into skin~artism;

and I shall continue my foray ~ exploring new feelings and facets of myself

with different imagery
After all… I do have a whole packet to use up! 😉



I encourage everyone to explore new things, even if they are mini-things ~

to be silly, to be amazed by our own capacity for joy and change,

to be eternally young in our choice making.



~

Just saw the most brilliant clip ~ Lazy Boy's Underwear Goes Inside the Pants.
Hell yeah man. Like a modern day When Doves Cry.