.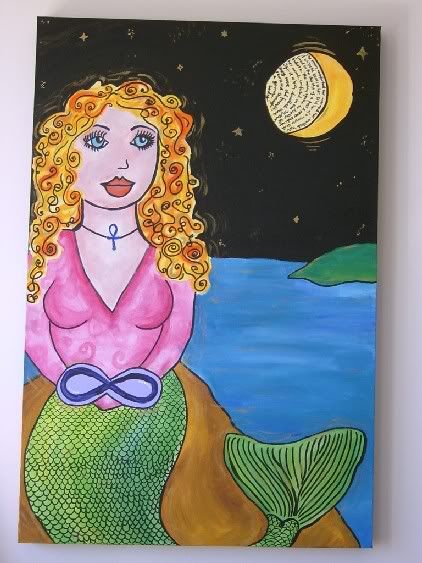 Mermaid commission.
My secret self is named Georgina.
She is radiant and free.
She lives in a windowed turquoise hut on a hill above the ocean. Her hut is filled with
hammocks and large colourful floor cushions for her visitors to sit on. Walls covered with
ramshackle bookshelves, vibrant artwork and textured cloths from her many travels. A
gnarled and friendly tree outside has swings and branches that scoop one up and cradle one
there for hours. Hut enwrapped in a large balcony, the sea and Georgina watch each other
for hours. Sweet rainforest and plains made for horse riding backs behind her.
Her horses and animals live close to Georgina. She often rides her favourite palamino bareback up through the sweeping lush of rainforest to the top of the mountain, just so they can speak to heaven together.
She is married, in body, in spirit, in passionate embrace to a man who is The One. He too
spent his life dreaming of the one which fit his side like shells. They bask in their love
and knowing, in free embrace of two seperate, creative, fulfilling, dreaming lives loved and
lived together.
Georgina.
The artist. The woman who knows herself.
~
Who is your secret self?
…
Thank you to the beautiful popsicletoes for this idea.
~