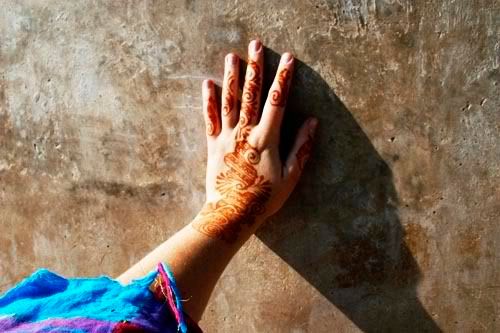 In India, when you meet someone, you say Namaste. When you say goodbye, farewell, enjoy your journey, you say Namaste. When you want to honour someone, when you want to say: From the God in Me, I see the God in You, you say Namaste.
I have been on a great, wonderous and wild journey in India. I've seen, felt, heard and experienced so many things that I am saturated with them. It is bigger, more bodacious and more fantastical than words, images, stories could possibly contain. If you wish to know what India is like, go. India is too dear to me, too crazy, too boundless and too wild for me to write one post about. I would love to one day share my Book of India with you.
It has been a spirit trip for me, and I have been blessed to learn under India, Great Teacher. This past year has been for me a search for authenticity – how can I more live my life in connection with Spirit? India reinforced this for me, and gave me the space to be who I am by rivers, in cities, searching for tigers, resting in forts on mountaintops. India gave me so much – I gave myself so much.
The day after I left, leonielife.com decided to take its own retreat as well. When I dialled in from Agra to find a blank screen, all I felt was a great sense of freedom. Finally – I felt as if I could truly live India for me. I didn't need to try and document it for anyone else. I didn't need to make it look beautiful or make it make sense. I just needed to be there, for me. After three years of documenting by blog my life to some extent for others, I could live my own precious, wild, strong-medicine life in the present and wholly for myself.
That felt good, and that felt true.
That felt like what I needed to do.
Even when I arrived home, my webby website would not come out of its cave. It grew fur like a mama bear, and growled softly:
Not until you hear my lesson.
She took me into her cave that smelled of earth and moss and breath, and she gave me a gift – her gift: the medicine of introspection. Of being inward-facing. Of finding true centre, true home, true north, in my own heart.
I set up gypsy camp in her cave for a while, fossicking through my jumbled bag of belongings, actions, habits. I picked up each piece, turning it over and over, whispering to it: Do you serve me? and pressing my ear against it to hear the answer. I had to empty my bag to make room for more dreams.

And so, with breath, and heartfulness, ~ I say Namaste to blogging as a form of communication for right now. I have a bigger dream of how I can share and express in this world, and more importantly, I have a bigger dream of how I wish to be.
I give thanks for all blogging has given me these past few years – for all the ways it has helped me develop as an artist and soul, the connections and inspirations it has cultivated and the possibilities this blog has dreamed awake. Now it's time for me to live those awakened dreams.

There are books to be written and retreats to be created and art to be made and sacred space to be given in to. And most importantly, there is my own sacred, precious, beautiful life to be lived.
From time to time I will release a joy e-letter with dreams, art and happenings ~ if you would like to be on the mailing list, please email leonie (at) gmail (dot) com. I would love to see you at the retreats I will be holding, and share with you through art, books and stories of miracles come true.
Leonielife.com still points to my website, but I welcome a new domain name as my main focus – GoddessLeonie.com. For me, this feels like a small but significant shift. This isn't about everyday leonie life now. This is about being the Goddess Leonie who I know lives inside me.
I say Namaste to each and every one of you ~ and to your own sacred, precious, beautiful life. I wish to thank you deeply for sharing in this journey, for your encouragement and inspiration. If you'd like to connect, you can reach me at the above email address.
May your life always bloom in new rainbow-light, spirit-loving and authentic-true ways.
With love of spirit and life,
Leonie