Sorting through old photos… ones I haven't seen in years.
And this one made me cry.
To see my family whole, as the Family of Seven Blue Eyed People…
And I miss that we can't have another photo like that taken again, not in this life.

And I miss my big brother Clinty.

I miss his silly smile,

and his blue blue eyes.
The pain doesn't ever really leave you when you grieve over someone.

It becomes diluted over time by the washings of everyday life, but every so often a really concentrated blast of grief hits like a rainstorm, and leaves me soaking in its wetness.

And I cradle the feeling, sitting at my desk, wracked in sobs.

Chris happens upon me, takes me out into the light of the living room, holds my hand, and tells me we'll buy a frame for the picture.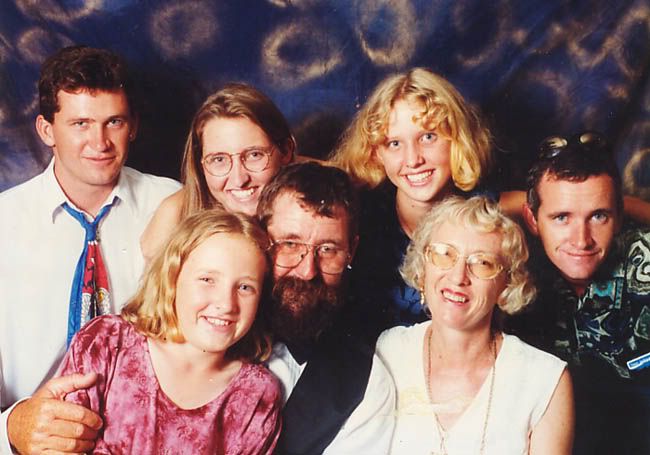 L-R: My brother Brett, little sister Maryanne, big sister Rebekah, Dad, a very young me, Mum and my brother Clinton.
It is better to have loved and lost, than to never have loved at all ~

yes, this is true,

and I remember this through all the tears, the snotty face, the pain of separation, the grief of it all.

I was incredibly blessed to have a family like mine,

and incredibly blessed to have my brother.
Sitting softly in my grief,

Leonie