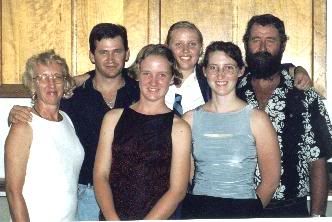 My Family… my mum, my brother, my little sister, me, my big sister, dad.



Last night my big brother Brett called me.

And we talked for an hour or more,

and we shared in that wonderful close way,

the way that leaves me feeling like the most blessed person on this earth to have such a wonderful friendship with my brother.

and at the end, we made a promise to each other.

we are going to write a love letter to each other.

a proper one, handwritten and everything.

I'm going to write him and tell him all the things I adore about him.

And I know it sounds strange ~ but at the same time, it is the most perfectly normal thing in the world.

To tell someone I adore, that I adore them.

Simply for being them.

There is a wonderful sense of an exchange of energy and love in this…

I am very blessed.

We all are.

~

Go on. Do that something a little bit weird, a little bit crazy today.

It will feel good, I promise you!