.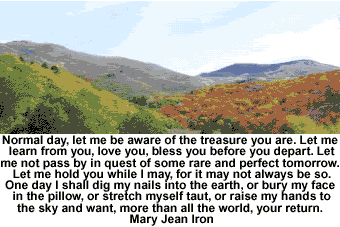 From Follow Your Dreams
Have been working madly away at my new webpage.

Thank you for being so patient.

It will be up within a week or so.
Not time to share yet about the labyrinth. I promise I will.

I'm just letting it sink softly, then rise again to the surface.
~
Life is good.

Regardless of the vagaries of living,

life is worth living if only to have the opportunity

to smell the sweet lemon-vanilla scent of magnolia blossoms,

to see one paper-thin periwinkle butterfly flutter about,

to feel one cool breeze dance across your skin on a warm summer day,

to hear one chickadee call out for a mate,

or to taste the juicy sweet nectar of one ripe peach.

Joy ~ the possibility of joy ~

is abundant even in times of sorrow if only we use our senses.

Love life back.

~~ Claire Prideaux
Reading ~ Women who Run with the Wolves.

Listening ~ Jimmy Little. The old gentleman of country music.

Loving this amazing Zoom Quilt imagery.
Be gentle with yourselves beautiful people.

Be tender in today.