.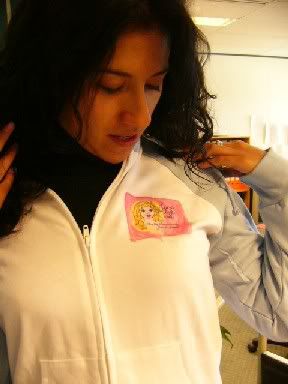 the gorgeous andrea in a leonielife jumper. dodgy work camera.
Be who you are and say what you feel,
because those who mind don't matter
and those who matter don't mind
~ Dr Seuss

~ sweetest andrea brought in the leonielife jumper she bought for her sister and we had an impromptu photo shoot in the office. i just ADORE her open smile!
~ jackie introduced me to an incredible CD ~ Saritah's "Gratitude"

~ I adore these wedding photos.
~ I am really digging this "Found Art"project
where you create bits of art and leave them in random places for people to find…
you can read about one person's experience here.
~ Check out Book Crossing ~ where you find and lose books.
Book Update:
Almost there. The glorious susan got first look. I'm waiting on my first copy.
And then, my friends, it will be born. In full colour.