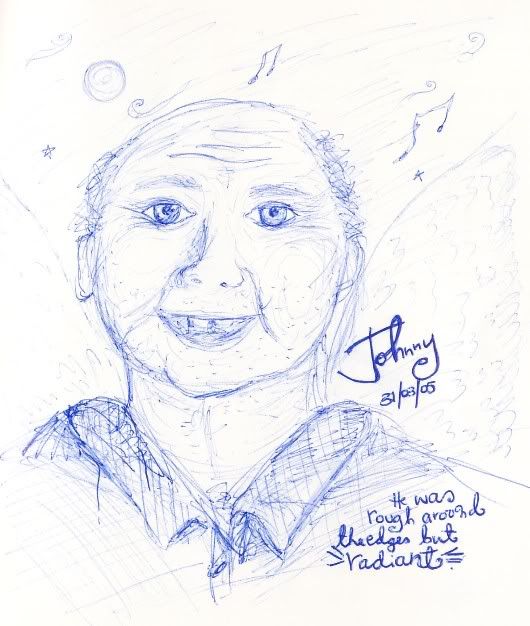 johnny angel, today.
i was walking to uni this afternoon.
listening to james taylor through my headphones.
the sun was beaming blue gold.
impossibilities wafted tangible in the air.
aboriginal children rolled in the grass by the buildings.
a cheerful man smiled and said hello to me.
another man sat and stared at his shoes sadly.
i wanted to pluck the yellow wildflower in front of him, give it to him and tell it would all be okay.
i didn't. next time…
with so many miniscule adventures and opportunities ripe with each step,
i had the thought:
i need to open my ears.
i need to listen for magic.
a curious thought, but i pulled off my headphones, draped them around my neck.
walking
past two girls in black suits
across a road
and into a plaza.
it was there i heard it.
the magic my instinct knew to listen to.
music which twirled through the space between buildings.
a man and his guitar.
a voice that could sound like flutes.
it soared over the traffic. it reverberated in my belly.
i followed the music.
i found him, like a pied piper, calling me to him.
he stood in front of the supermarket busking.
short. so short. like a little blue eyed joe pesci. a striped shirt.
wizened face, bright eyes. the voice of a country.
i am entranced.
i place coins in his opened guitar case, i smile widely at him.
i go to continue on, but i cannot.
i stop at the corner. i cannot bear to face being without his music in my ears.
so i stand at the corner. lost in a music never never land. people have to walk around me.
when he finishes his song, i walk back to him, breathless.
that was beautiful
i tell him.
your music touched the streets.
he doesn't even reach my chin,
but when he looks up at me,
his blue eyes gaze at me full in the face.
he is present.
he tells me the story of the song.
he wrote it when his daughter was nine months old.
a special time, he says.
nine months in the belly, nine months in the world.
a full moon.
his wife tells him ~
how nice it would be to have a song for their daughter's sacred day.
she goes into the supermarket
and the song fell from the stars into him.
there in a darkened car,
on full moon,
a man sang to his baby daughter a new song.
i tell him it is magical. he is magical.
i introduce myself. he shakes my hand warmly.
studies my name carefully, rolls it in his mouth.
we shake hands three times in our interaction.
a phyical manifestation of our connection.
we speak for moments.
he asks me what i am, what i will become.
firmly now, i say: i am student. i am becoming a writer, an artist.
he tells me:
i too am an artist. i paint my pictures with my songs.
yes you do.
there on the corner we said our hellos and our goodbyes.
there on the corner i followed the music and i opened my heart.
it was
there on the corner that i met johnny.
~
incredible interactions. blue eyed joe pesci angels. music that calls like pied piper. babies and fathers. strangers meeting on the street.