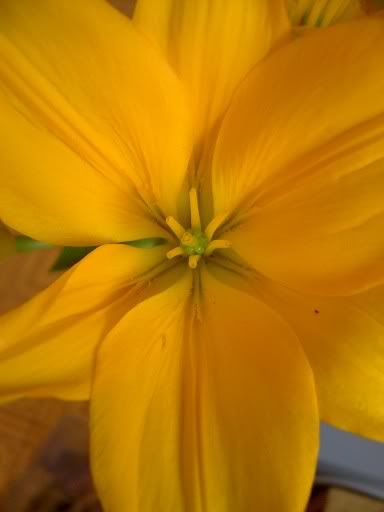 The lilies from Sally are opening beautifully. Today.
"A single crocus blossom ought to be enough to convince our heart that springtime, no matter how predictable, is somehow a gift, gratuitous, gratis, a grace."
~ David Steindl-Rast

Gratefulness, the Heart of Prayer
What a big beautiful feeling sort of day.
Got into work early, checked my emails and my heart was filled.

Two white jugs of creamy milk poured into me and nourished me.

An email from dearest rainbow~flecked Sark ~ telling me I was in her favourite bookmarks. Oh my golly gosh. Golly gosh aplenty.

And a comment from the dear~hearted Lisa Marie calling me the Atlantic Ocean which made me swell inside like deep sea tides.

Two white milk jugs, two white angels, one with long dark hair, one with curly red.

Two white milk jugs which fill my cup, and let it spill over, down my fingers

filled with the liquid of love and joy and friendship.
At lunchtime today, I opened my pink journal to write this down,

to tell you of these two dear spirits which affected my day so much

and there, sitting right on top is a single card.

It is a card from Sark's Juicy Living set.

Not only this, but it is a card that Lisa Marie sent me.

On it is a colourful human bean shape, jumping in joy.

Written in Sark's gorgeous writing is "Impossible means I'm Possible!"

and handwritten in the corner ~

"I love you! Love, Lisa Marie."
I cannot tell you how much that moment meant to me.

To have that physical manifestation of two dear souls, right there,

in my journal, in my hand, in my heart.
I thank you.