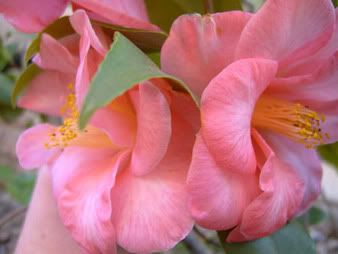 Every man's work,whether it be literature or

music or pictures or architecture or anything else,

is always a portrait of himself.



– Samuel Butler





Even blogs.




For all that has been, thanks; to all that will be, yes.



– Dag Hammarskjold



Yes. Yes. Yes.





Lovely email from Helena today.



Talked to Emelisa ~ but a truck knocked over the powerline in front of her house and her power went out!





Spinning: Dawson's Creek Soundtrack… I love I love I love.

Faves are Chantel Krevaziuk's Feels Like Home and Sophie B Hawkin's Lose Your Way. Makes my heart sing and sigh all at once.



Reading: Suzanne's Diary to Nicholas by James Patterson.

Recommended by Emelisa… very easy to read, sort of cliched, but she assures me the love that is in it is so worthwhile.



Fave moment: Reading above book outside, perched on the outside windowsill, watching the sun set, and the stars come out, the lights brighten on the hills. Finally it is warm enough to wear shorts until dark!



Finishing today: On beanbag, watching Wildboyz, Chris and Charlie by my side, chatting to Dan on the laptop. Feeling loved by all these boys!



And now we are having a storm.