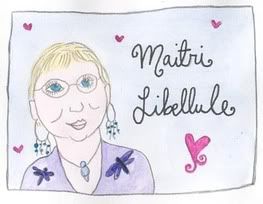 A commission for a signature pic I created for
the writer, the soul, the beautiful Maitri Libellule.
There has been many who have been touched by her words and spirit,
I am so blessed to be one of them.
It was a delight to create these for her ~ they came so easily to me,
as though dropped from the soft wing of a duck.
Speaking of ducks, it's time for a duck poem.
And nobody does duck poems like Michael Leunig.
A Little Duck
~ Michael Leunig
With a bit of luck
A duck
Will come into your life.
When you are at the peak
Of your great powers,
And your achievement towers
Like a smoking chimney stack,
There'll be a quack
And right there at your feet
A little duck will stand;
She will take you by the hand
And lead you
Like a child with no defence;
She will lead you
Into wisdom, joy and innocence.
That little duck.

I wish you luck.
Time left until Academy prices double: