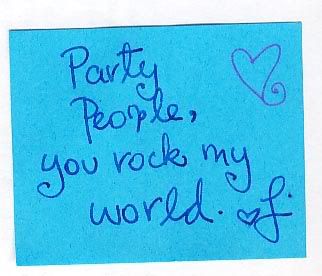 hey there groovy party people!
so far, for the book, i have received post it notes from
~ helena
~ joyful dancer
~ andrea
~ mum
~ bex
~ paris
~ amanda h.
~ missa
~ lile
~ deb
~ lisa marie
if you have sent me one, and i haven't listed your name,
can you please tell me, so i know how many i'm waiting on.
BOOK UPDATE:
I've pushed back the publishing date till the end of this month…
just to give myself a bit of extra time to make it *sublime*
It will be here though. It is preparing its wings for flight into the world…
Thank you for all your support.
lots and lots of love,
Leonie