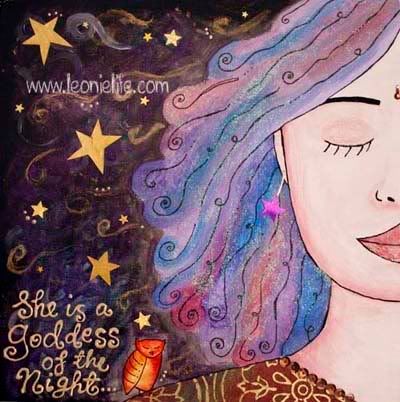 Goddess of the Night, acrylic and mixed on canvas
She is a Goddess of the Night.
The stars sing melodies to her,
melodies that have no words,
but unveil the ancient mysteries,
the possibilities, the angels
emblazoned in their light…
*

The night wind is her friend.
It curls around her hair,
scooping around her shawl,
tracing her cheek,
wrapping her in its sweet embrace,
reminding her she is loved…
*
The swoop of an owl's wings.
She calls to her, awakening her,
the moonlight in her eyes,
her knowing presence.
The Wise Owl is inside you…
*
And then, there is
Grandmother Moon.
Her crone cream belly
laying, dreaming in the sky.
Her life is of transformation,
she takes you on the journey,
this journey of being a woman…
*
She is a Goddess of the Night,
finding Great Spirit in the solitude of the dark,
the shining angels of the stars,
the belly of moon,
the flight of the owl.
**

Uluru dawn over the dunes
The Goddess of the Night evokes for me all the night dreaming in Uluru.
The night sky there is filled with a thousand lights ~ nightly barefoot walks in the dune ~ a dingo ~ infinity.
An offering to the stars ~
Leonie
Time left until Academy prices double: