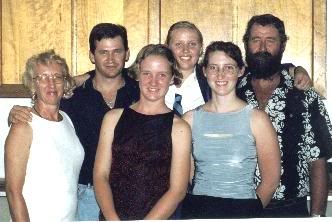 My amazing beautiful family



Left to right ~

my Mum, my elder brother Brett (Boofy), my lil sis Maryanne (Mooky), me, my elder sis Rebekah (Bex), and my Daddy.



I love them all so very very much and honour the wondrous effects these bonds have on my life.



I also honour my eldest brother Clinton who passed away in an accident when I was 14.



My mum is creative, divine and laughter filled.

She is also flighty and monkey-minded.



Brett is my childhood hero. He is the most wonderful big brother.

He also focusses too much on money. He knows this and works on it.



Maryanne is filled with energy and love and passion.

She also can be overwhelmed with emotion.



I am fiercely loyal and protective but am also prickly.



Rebekah is loyal, loving, and like my twin. She is a peacemaker between me and Maryanne.

She sometimes puts peacemaking in front of her own emotions and health.



And my Daddy. He is fierce and loving and a bushman. He finds it difficult to express emotion but never skipped on the three most important words ~ I love you.



Seven of us, so vastly different but intertwined in love and blood.

How blessed I am to have such gods and goddesses in my life.





Time left until Academy prices double: