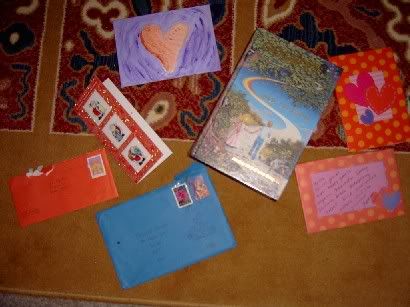 delight to come home to a mailbox of love today
a sublime painting card by the wonderful emelisa. her beautiful peach and lavendar radiating heart painting is now sitting perfectly on my purple bookcase. what a beautiful christmas blessing card. i thank you.
from ze gorgeously crazy benjumang bunny hutch, the funkiest card, written in his rocking neat handwriting with little 1960's air stewardess stickers. Way fun!
and dearest lisa marie ~ who sent me the most wonderful book for christmas, and a delightful card. the book ~ "Gooberz" by the amazing writer Linda Goodman. I love the cover illustration of a girl and a boy, who walks the rainbow in the sky to become the man and woman, still hand in hand, together.
My mailbox thanks you.

I am touched.
~
And so goes the flow of energy. On the day that I mail out some of my christmas letters, I receive so much mail loving back.