Had an early birthday celebration today…
Went to Montezuma's Mexican Resturant with people.
Did introductions.
Ben. Meet Ben.

Ben is a Libran who likes long walks on the beach. He is a cartoon artist and senior animator of the Tribes computer game. Ben is a groovy dude I met on a bus, I liked his tie died shirts, he thought I laughed a lot, and we talked about Pride and Prejudice. (Ben left before I could nab a mug shot)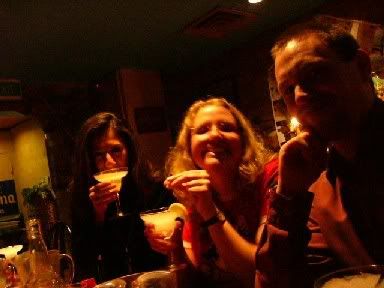 Andrea, me, David.
Andrea. Meet Andrea.

Andrea is a Taurean and is a new addition to work. She has a gorgeous story and an amazing family ~ an Indigenous Equadorian father, Spanish mum and two sister and two brothers. She has just arrived back from a few month's travelling in Equador and the Inca Trail.
David. Meet David.

David is a groovy Aquarian and is the IT dude at work. When we first talked, he said that he was the youngest person in the workplace. Wrong, twas me the youngest (by a few months). David ditched school at 17 to move to Sydney and become a programmer. He goes to Tibetan Buddhist meditation sessions and imports kava.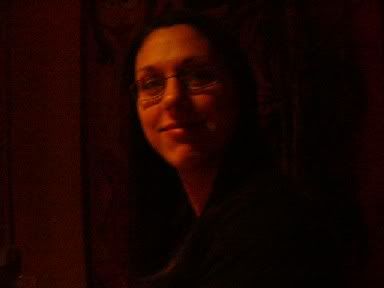 Lile.
Lile. Meet Lile.

She is a regular mention on here. Lile sits next to me at work and is a tidy Virgo. Like Lily with a 'e' not a 'y', and definitely not pronounced Lyle. She is a growing succulent and one of my dearest friends. She is loyal, and creative and has a ginormous Kinder Surprise toy collection. Tee hee hee.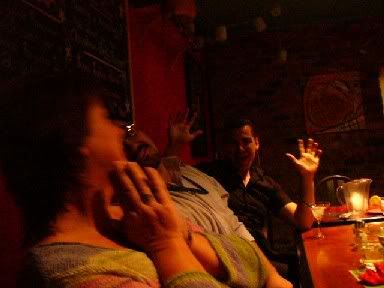 Fuzzy Deb and giggly Nate.
Deb. Meet Deb.

I call Deb "dearest Deb" and she is the Queen of Hearts, and another of my dearest friends. She is a Libran. She brings out the best in everyone around her, and is so warm. Deb is a SARKette sister and a Succulent wild woman. She has two beautiful sons who were born in the Years of the Animal and are Starsigns *gigglesnort*! Deb just came back from holidaying in Hawaii for her 40th birthday.
Nate. Meet Nate.

Nate is a Virgo boy who giggles after a few margaritas. He lives life on the wild side and crams fourteen weeks of uni semester into four days of glorious cramming. Nate grew up in Perth and we have something in common ~ after night clubbing we both went and slept on beaches. Nate is a criminologist who does IT security at work – that pretty much means he gets paid to look at the porn people at work are looking at!





So yes, a groovy lunch. Filled with groovy people and a sea of margaritas.

I cannot enunciate the quantity of liquid which was consumed.

Then we all walked back to work, sloshed.

*gigglesnort*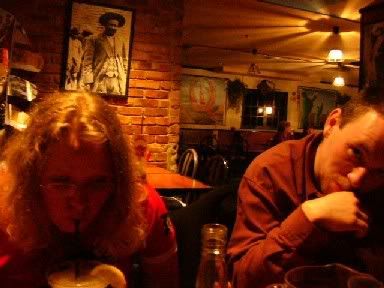 SLURP!



A day of silliness, of Astroboy shirt wearing, of too many drinks.

Kinking out those final few days of being 21, young and stupid.



Tee hee hee!