Hola gorgeous Goddess,
The best how-to-post of all time. Totally my life's work. Ha ha ha ha!

Find a Mermaid Husband
It was afternoon of May 21, 2001. I'd been mustering cattle with my dad and little sister on the farm all day.
I was impatient.
Daaaaaad! You know I've got a date at 3:00! I have to leave! Now!
I was 18. And the mere thought of my date made my breath squeeze, my chest tighten.
I'd met him at work. Me – fumbling, the new girl at work, just out of school.
Out of all the places I'd expected to fall in love, my small hometown and at my first job was not one of them.
But there he was.
Ocean eyes, long hair the colour of tree bark. Incredibly handsome. Just my style of hotness.
I lost my voice when it came to saying hello to him. And in all the months that followed, of seeing him in the hallway.
Just his eyes. And his voice. They saw right through me, and his voice spoke at the same vibration as some part inside me did.
My stomach would flip and birds flew up in my chest and I'd be rendered speechless.
I would shake my head, giddy, smiling, thinking to myself:
What the phaaaaark was THAT, Leonie? What IS this thing between us? What is going on here? I've never, ever felt like this around any man before.
Eventually, I struck up enough courage to start talking to him.
To start digging at the soil to find out what were these gems between us.
I began emailing him.
First to tell him to read a book: Microserfs, by Douglas Coupland.
Him, being in IT, might enjoy its Silicone Valley, start-up working characters.
But really the book was a love story.
Just like the one I was trying to tell him.
He was shy, of course. And he didn't have his radar on, if you know what I mean.
He was self-contained. Gently self-assured. In need of no one but himself.
But I kept turning up.
Kept tilling the soil.
Every time we looked at each other, the gems would glint from their hiding places.
Ruby, emerald, abalone.
Until one day he said yes and I said yes.
We were to meet by the sea.
I was late, of course. Thanks to my dad, and that day of mustering cattle.
But my love didn't mind.
We clambered down to the rocks and out onto the sand and we held hands.
And as we looked out over the ocean, he said to me:
My soul looks out my eyes and it sees the sea, and it is happy.
We clambered to each other's sides, and we stayed that way.
Seven years later, after travelling all over the land,
we returned to that sea.
And we sat on barnacled rocks and put our feet in rock pools.
Where do you think our mermaid cottage is? It feels so close.
I asked him.
Just out there, just beneath the waves,
he pointed to beyond the first line of white tipped breakers.
Then he led me by the hand to the place where the river kissed the ocean,
we stood where two waves eternally lapped
and he asked me to marry him.
I said yes.
Three years later,
(ten years to the day of that first moment by the sea where he reached for me and found me),
we are returning back
to that same piece of sea
this time with our daughter in our arms
to say outloud into the wind
the words that have always been in our heart:
I love you.

I will be with you for the rest of my days.

I choose to honour you.

I choose to be with you through the big the hard the sweet the tough the strong.

I believe in you.

I want to help your dreams come true.
My love and I enter love not as giddy new romantics.
We enter as partners of a decade, who have seen and witnessed the highest and the lowest in each other. We have grown together. We have argued, made love on lazy Sunday afternoons in the sun, miscommunicated, made lunch together laughing, made each other crazy, made each other gidden, stayed up late drinking port in the kitchen talking and giggling on Saturdays, stolen a hundred glances, driven across the countryside, bickered, been poor, been rich.
He has caught our daughter as she slithered out from between my hips and took her first breath.
And through the Year of Transformation that followed that moment – surviving numerous traumas, griefs, a move across the countryside, family divorces and when I was swallowed by Post Natal Depression. And it was the greatest of storms that had enclosed around our boat, but we lashed ourselves to the mast and each other. It was not easy. It was not easy. It was not easy.
In so many ways, we've already lived the epic vows.
I look across at the man sitting beside me. His eyes are still that ocean blue I dived into all those years ago. But I know now every twinkle, every line, what every motion of his face means.
There is one true thing I know about my love: this man's heart is as loyal and as committed and faithful as can be.
And we are deeply committed to changing and growing and healing. Together.
We see the divine in each other. To fly and be our highest visionary selves.
We work to give each other space to be human. To fuck it up and be flawed.
And still, at the end of ten years of the thick and thin,
we choose each other.
There is an enormous power to that.
***
So my loves… want to hear the rest of the deets?
Below below!!!
Photographer!
Our beautiful doula Rachel of Birth in Harmony and Soul Harmony Photography (who also took our pregnancy photos & 3 month photoshoot) will be our photographer.
I adore the light soaked photos she takes.
Celebrant!
My beautiful mentor Ellanita Arlee will be holding our sacred ceremony by the sea.
Bride's outfit
I actually bought my wedding dress when I was 13 from an op shop. It's a 1970's hippy style dress that I ended up wearing at my inner marriage ceremony.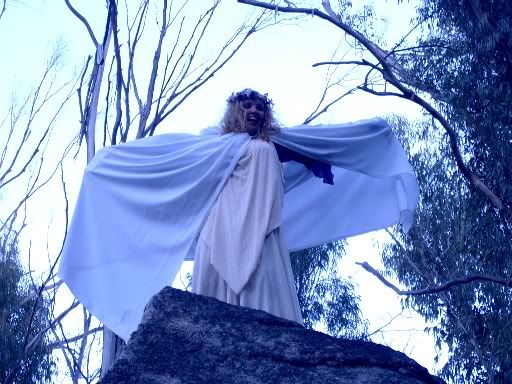 When it came to our wedding wedding though, my sweet dress was starting to fall apart.
So I found myself a new soft flowy rayon dress on Etsy. Yay!
I bought my dress from KyeCrow on Etsy a couple of years ago. I wanted something simple & flowing, and this one sung to me. Bonus points: they are made in the desert on a camel refuge! Yay!
I commissioned a special sacred turquoise necklace from Lunaozi Dreams for my wedding. She was totally booked out for commissions but I'm so grateful that she had a nudging from spirit to create one for me. Grateful. Holy.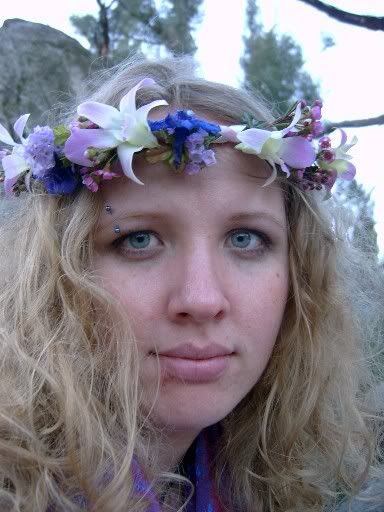 When I married myself all those years ago, my beautiful goddess sister Debra gave me a flower crown to wear. I fell in love with flower crowns that day.
So it's totally fitting now that I'm marrying another that I wear a flower crown again.
This time it's being created by Bloomin Whitsundays, and will have white daisies, white miniature roses, moss & purple orchids. Which cracks me up looking at this photo – as that crown is pretty similar. We love that!
Shoesies!
Oh yes… the shoesikins!
I'm a barefooted bride all the way. NUDE FEET!
And for times I need to cover my twinkies, I've got some Ipanema sandals by Gisele (my faaaave!).
Groom's outfit
It was waaaaaay harder and more time consuming buying my love's outfit than mine. We hunted and hunted and hunted online & in towns nearby, but finally came back to Climate Classics Clothing here in Proserpine, not 100 metres from our door. They stock earthy clothes made from natural materials. Hunky bought an Earth Collection shirt + pants
Can I just say right now: Ruuuuhrowwwwwwwwwr.
The End.
Also: leather sandals.
Bridal party!
My love & I felt strongly that we didn't want a bridal party. Our love is all about us, and we wanted to keep the energy close & strong. Ostara will be our fairy girl, and will be by our sides & in our arms during it.
Guests
We wanted to keep it small and intimate. 45 all up, with 35 of them being family. Most are flying in from around the country and will be staying at the tourist park with us.
Location!
That sea where we fell in love.
It's a magical place where rainforest and mountains meet ocean…
where sea turtles mate and sea eagles soar.
It is utterly exquisite.
Everyone is staying at the cottages just down the road from the beach… so it will be a beautiful mermaid holiday for everyone!
***
We leave tomorrow… and will return May 26.
I'm feeling like it will be wild dances on the beach, sand between my toes, sun on my shoulders, and love all around us.
A magical time in a magical place.
I am grateful, and I am wordless (even thought I've written a lot of words already.)
Mostly, it's all just beyond me. Beyond me and through me.
And now my loves, I am off to bed. To nestle between my daughter and my love.
To let the miracles be.
Thank you for sharing all of this story with me.
All my love,
Mrs Dawson
P.S. I think this calls for RANDOM HISTORIC PHOTOMONTAGE of our love.
What say you? YES????
Oh good. I knew you'd say that.
Because we are BFF's.
Him when we first started dating. HOT. Rowrrrrr.

Celebrating our first Scorpio's Birthdays together (he's Nov 18, I'm Nov 12)

I like our twinsies giggle and closed eyes. He is very hot.
THE END.
🙂
OFF TO GET MARRIED TO DAT HOT DAWSON MAN.
Time left until Academy prices double: