Monthly Archives:
April 2007


Last night I crept outside
into the darkness of the backyard
and lay still for a while.
Breathing just breathing.
I whisper into the soul of the earth,
and I listen, and I hear,
and we commune together so insistently, consistently, assuredly,
that I began laughing, and the soul of the earth laughs with me.
They show me what forgiveness looks like:
two hands releasing a white dove.
I bet if you just clutched and grasped and held that white dove
it would shit all over you, and peck and scratch.
Better to let it go, I think.
White doves were born to fly.
So are hearts, and forgiveness.
Last night I fall asleep in moonbeams,
and I slumber like a fairy,
only waking to mumble:
I must remember this.
I must remember this.
In the dreaming land,
I see my father, and he is smiling and laughing and young.
For the first time I really see him,
and it is a beautiful thing indeed.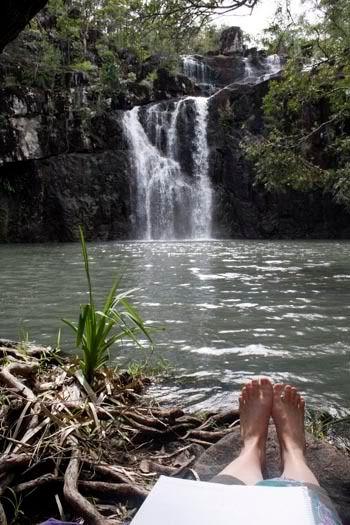 Aside from:
right here
right now
The best place for morning pages
was dried pears
and a diverted adventure
up the long winding road
to Cedar Creek Falls.
I didn't know I had to go there
until I went.

I sat with my feet in the water for hours there,
writing,
talking to the fairies,
taking photographs.
Afterwards I clamber up the mountain to the top of the falls,
blessing myself again and again in the water
like I was being baptised again.
"The time for the lone wolf is over. Gather yourselves! Banish the word struggle from you attitude and your vocabulary. All that we do now must be done in a sacred manner and in celebration.
We are the ones we've been waiting for."
~ Hopi Elder
I am always good enough,
Leonie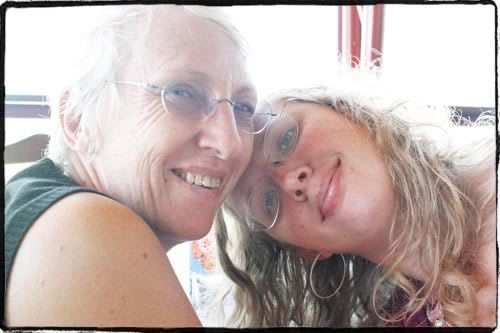 When I was 16, my mum gave me a small medicine bag to hang around my neck.
I was living away at boarding school and going through what I called a "grey time" ~ weeks when it felt like grey, heavy rainclouds had covered the sky inside me.
Inside the medicine bag was small rocks, crystals, seeds and amulets… and a few pieces of corn kernels "to nourish and feed the soul".
Tonight, pulling the large green reedy heads from fresh corn, I remember that small medicine bag, and the tiny corn inside it. I remember the grey time, and the tiny shaft of light that hope can bring. I remember the words of Denise Linn, that our medicine bag is our body. I remember to feed my body, to nourish it, just as I feed my spirit and nourish it with love. And I remember the love with which that medicine bag was given to me from my mother.
So, in quiet moments, I find myself tending to experiences and light, knitting them together into an ethereal medicine bag. Into it grows small pockets of wisdom, tiny gold flecks of magic, memories of walking and sharing and two eagle feathers. I walk at night, lie on the ground of a black oval, peering up at blurry stars, deciding which to use as a fastener. I make a new bag, a new life, for me, for my mother.
In grey times, Mama waited for me, handing me the medicine bag with corn. And I hold the medicine bag for you now Mama.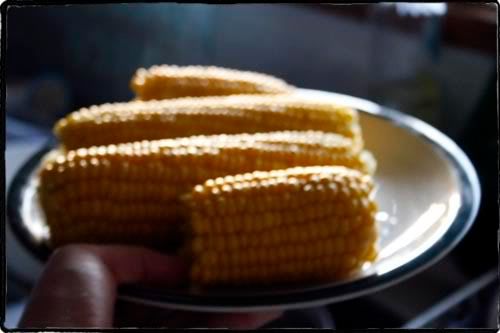 I offer this to you, Great Spirit.
I offer this to you, Great Mother.
I offer this to you, My Mother.

"My spirit is with you always now.
And your spirit is inside me too now."
~ Aboriginal man on Going Bush
[LeonieLife.com homepage is now back up, thanks to a blue eyed god.]