Monthly Archives:
November 2006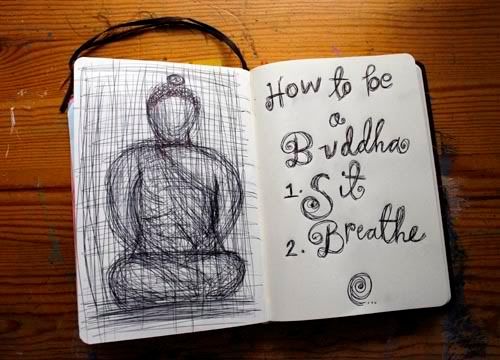 Words above are from Keri Smith's delicious Wish Jar Tales from four years ago. I've been going over and reading them in delight.
The Light Movie touches my heart.
The Path of Ceremonial Arts inspires me with the work they do.
The IsisMoon Calendars are rich wonders of moon wisdom.
I want to go to the Goddess Conference.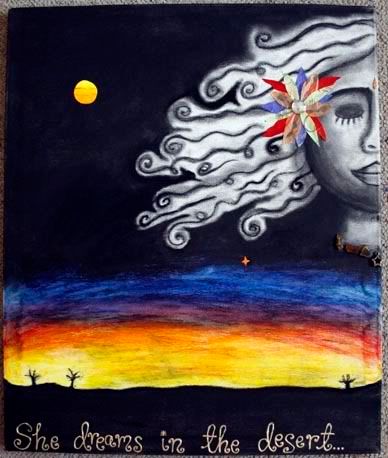 she dreams in the desert, charcoal, pastels and mixed media
Not so long ago, I had a conversation with a sciency friend.
We had similar marks at university before I decided to take another path and actually DO my art instead of learning about its history.
He enquired ~ "Why art?"
It was a good question.
At school, I finished with good marks – great marks. In approximately the top 5% of the state or the like. I could do anything I liked. I elected to pursue a Bachelor of Arts which required an entry level of OP 16 or below. I had an OP 2.
I studied full time and part-time, on and off for a few years, changing my majors from journalism, to sociology, to Australian Aboriginal studies, to psychology, to public policy, to art history and economic policy.
I have flirted and considered seriously career aspirations of being Prime Minister of Australia (not joking), senior public servant and Mayor of my hometown.
All of these things because I knew I could do anything I wanted.
Nothing really challenged me. In intellectual matters, I knew all the games. I was (and still am) an information sponge. I have somewhat a photographic memory at times. If I wanted a mark, I could get it. If I wanted a job, I could get it. Life was, and still is, all about choices. I am not limited by any outside circumstances or influences. Everything is my choice.
And I chose art.
I explain the past above in order to emphasise this point –
out of all the things I could have chosen in life, I chose art.
He wanted to know:
Why art?
Art is my greatest challenge and my greatest pleasure.
When I get it right, I walk out beaming and thrilled in every part of me. I wonder back in my studio as I walk around the house just to peek at her. Before I go to bed, I go and absorb her into me so the last thing I see is that something magnificent I just created.
When it doesn't work, I roll it over and over in my mind again, calling the answer to me. It comes in visions, in dreams, in sudden bursts of "getting it." I listen to her, to the story she wishes to share, and play until she is in this world how she wishes to be.
Art terrifies me. It calls on all parts of me. It's not something I can work out with a simple equation. It's not something I can memorise. It's not something I can use my ginormous (he he) brain to work out. It's every single part of me ~ mind, body, soul.
It's something intangible that I attempt to document. It is ethereal and other worldly, and I am a woman splashing it down in acrylics.
Sometimes I am scared shitless of creating. Sometimes I am brave and courageous.
When things are right, they feel so very very right. I have cried upon the floor when things work out. And I have yearned, striving for that feeling of more, more. More authenticity, more reality, more dreaming, more colour. More being present with myself as I gasp my way through this art of creating art.
That's why I chose art. And that's why I keep choosing it.
It entices me, encourages me, and pushes me into being even more of myself.
It teaches me the possibilities of creation,
of the artform of shaping my own life,
and the miracle of making my own self more Leonie.
Why do you choose what you choose?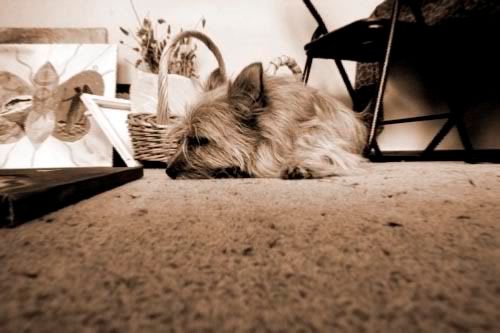 We found out our sweet boy Charlie may have epilepsy today, after he had a fit at the vets (I must commend his sense of timing and place). We'll be keeping a close eye on him to see if there's a pattern to his fits (or if he even has any more), or if he is experiencing fairly bad anxiety attacks (read: can't walk, legs won't work, back seizes up, glassy eyes).
He is quiet this afternoon, lying down in my studio.
I lay down next to him, and checked in with me.
I realised on some levels I was resisting him, thinking "he's just a dog… don't get attached… especially a dog that might have a problem…"
As though if I loved, it meant loss. And loss in love – is it worth it?
Yep, I felt all of that. I'm not going to judge it. This whole beautiful life and this beautiful dog love me so unconditionally they teach me those lessons.
I moved my head to be next to his, and I spoke to him:
My darling boy, no matter what, I'm going to love you.
It's okay if you have epilepsy. It's okay if there's something happening in your body. It's all okay… no matter what. No matter how long we have, I am blessed to know you. I am blessed to love you, even when that means we only have moments or years to experience each other.
And I thought how it kinda made sense to make this a mantra for love.

Health issues – they always make me radiantly aware of the shortness, the promise and the magnificence of this life. How lucky we are just to be here now, experiencing all of it. Even the stuck parts, the loss parts, the grieving and the awakening parts.

in love and light,
Leonie
P.S. If your sweet fur~kid has epilepsy, please share your experiences…