Monthly Archives:
November 2004
.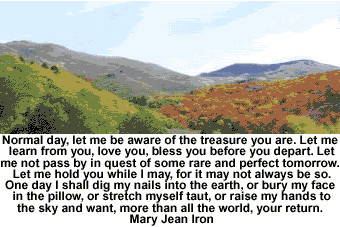 From Follow Your Dreams
Have been working madly away at my new webpage.

Thank you for being so patient.

It will be up within a week or so.
Not time to share yet about the labyrinth. I promise I will.

I'm just letting it sink softly, then rise again to the surface.
~
Life is good.

Regardless of the vagaries of living,

life is worth living if only to have the opportunity

to smell the sweet lemon-vanilla scent of magnolia blossoms,

to see one paper-thin periwinkle butterfly flutter about,

to feel one cool breeze dance across your skin on a warm summer day,

to hear one chickadee call out for a mate,

or to taste the juicy sweet nectar of one ripe peach.

Joy ~ the possibility of joy ~

is abundant even in times of sorrow if only we use our senses.

Love life back.

~~ Claire Prideaux
Reading ~ Women who Run with the Wolves.

Listening ~ Jimmy Little. The old gentleman of country music.

Loving this amazing Zoom Quilt imagery.
Be gentle with yourselves beautiful people.

Be tender in today.

My feet and the side of the labyrinth.
Holy
bigger than my belly.
Today has been such a bigger than big day.
Beautiful, full, opening, blossoming, awakening, real, startling.
Confronting my self, embracing my self.
And having others embrace me.
Hugs from near strangers at the labyrinth. Opening arms to the unknown.
I will speak about the labyrinth tomorrow, once I have time to filter
and resonate with it.
But this… this… these words resonate with me now.
Don't worry you will find the answer
if you let it go
give yourself some time to falter
But don't forgo knowing that you're
loved no matter what
and everything will come around in time
~ Sarah McLachlan "Perfect Girl"
I give great thanks to the wondrous group of women who have
drawn me and welcomed me into their circle
great thanks to the wondrous miandering pattern of life's journey
to the makers and keepers of the labyrinth
to those that surround and protect it ~
be it angelic sheep, the sound of didjeridoos or the stillness
of the ancient trees beside it.
and to those who walk the labyrinth.
Blessings.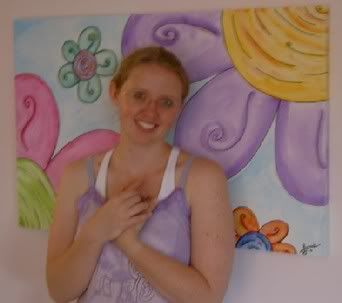 Holding the heart, and holding this space.



Painting I did yesterday ~

commissioned to my groovy and pregnacious friend Sally.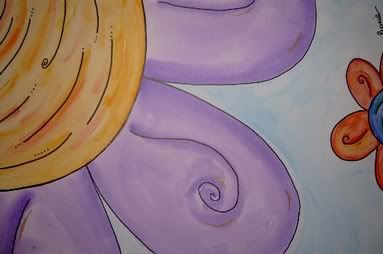 The Song of Ego
My ego needs.

My soul has.

My ego tries.

My soul does.
My ego knows the problem that is.

My soul becomes the answer that is.
I am not alone.

within my unlight self:

My ego, my naked death.
I am not alone.

within my snow white heart:

My soul, and my spirit's flame.
~ Sri Chinmoy "Eastern Light for the Western Mind"
~~~
Most beautiful joy upon joys when I returned home today.

I got an email from one of my favourite photographers ~ jen gray.

Just like that. Out of the blue.

Without me doing anything but look at her gorgeous webpage everyday.

An email to tell me that she'd read my blog. that she liked.

i am overwhelmed.

gratitude.

my belly is full. overflowing with gifts, love, joy, growth.

a medicine bundle of beauty.