Monthly Archives:
January 2006

my studio… how lucky i am to have a studio! the mere thought makes me smile deliciously big, even though it has been months now… may the delight never wear off on me.
after writing yesterday's post, i loved getting this card in the mail from lovely lisa marie:
Fear less, hope more,
eat less, chew more,
whine less, breathe more,
talk less, say more,
love more, and all
good things
will be yours
~ swedish proverb
i'm feeling gutsy and ballsy and very NORTH today.
i'm saying with passion: you CAN do it. i DIG what you are doing.
i feel deepness in my core when i see others walking their talk.
and that's all i really want to say about that. just that:
YOU CAN.
surf delights:
:: my gorgeous friend emelisa is running her creative workshops in the hinterland of brisbane… if you're up that way, check it out! she is a beautiful soul indeedy, with a heart soaked message to share
:: an earthy and groovy magazine for 8-12 year olds
:: the awesome art of sand fantasy
:: loving ali edwards' new blog design
:: watercolour journalling is yummy!
:: the writing of james
:: collage art – drink it up
i stay up last night reading letters to a young artist. some bits i need now, others don't strike me but i know i'll need them later. i take note of the three important things: morning pages, walking and holding your gold ~ creating your art instead of speaking about it. in the steaming night, i try to get to sleep but ideas flood me. i find myself searching out my asian~silk journal in the darkness, drawing blindly, not wanting to wake my beloved by turning on the light. in the morning i find that i have drawn all over written pages. it makes me laugh.
i wake and see chris off, before writing my three morning pages. my mind feels clearer for it. i feel all ajumbo with ideas, so i take the second piece of advice – walk. i walk down to the park near our house, the park that is barely a skip from our front door, and yet i have only rode through it before. i am mesmerised by the lattice shadows in the lane. i sit beneath a tree, flies and grasshoppers akimbo, and stream out the ideas on to the page. i watch as an indian myna bird chases a grasshopper. it is good to be out under the sky, journal in hand.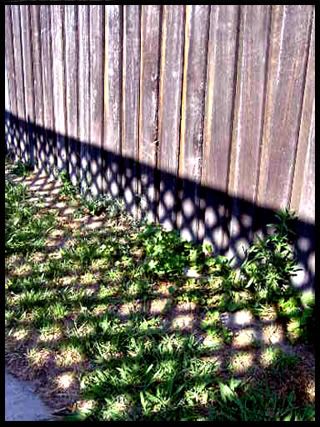 this morning i felt uncomfortable. and i laughed out loud: because i realised that is was good to feel uncomfortable. i laughed out loud because i am breaking out of an old mould, and transitioning into a new shape that is fitting me better.
less tv
more connecting
no meat
more nutrition
no reality shows
more reading
less procrastinating
more creating
without fear
and all in love.
Studio Friday's theme this week is Playtime. The remarkable Tine charged us with the task of using two fingers from our non dominant hand to dab in paint and walk along the page.
Mine began as this ~ it ended up looking like japanese mountains. I then got my paintbrush out and made it into a journal entry. There's so much to say…
Donna tells me – get organised. It will make you even more creative. Paint the backgrounds, then let them come to you. So I do, and it works…
Reading Julia Cameron's "Letters to a young artist" ~ and it is profound. Everyone must go through this. Stop talking about creating – just put the hours in and create. No matter if it's "good" or "bad" – it's all necessary.