Monthly Archives:
November 2004
.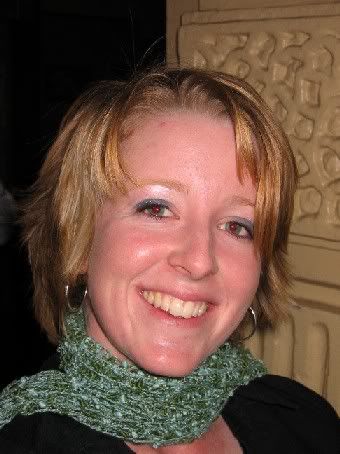 The ever beautiful Jayne.

How strange to have last seen you as a gorgeous teenager

and now see you have blossomed into a gorgeous woman!


It's been a little while since I handed out my last goddess award.

This one has been swimming about in my head for months,

and it is time to let it flower.



I am so grateful for the presence of these beautiful, powerful women in my life.



I'd like to introduce you to the latest inductee to the Leonie Hall of Goddess Fame ~

Jayne Landsberg.



I met Jayne when I was 16 and went to boarding school.

When I first got to boarding school, I was put in White Dorm

with both Goddess Jayne and Goddess Helena (already inducted)

I remember that in the first few nights, Jayne pulled me into her cubicle,

and we gossiped and giggled with Helena

and it was just so lovely and so friendly and homely.

In those moments I realised that I didn't need to be afraid of boarding school and making friends,

because I'd already found them. Right there.

Then the dorm mistress walked in to inspect that everyone was in their beds, and there was a mad scattering

of bodies and flurries into doonas, pretending we were already asleep.



tee hee hee



Within a month, I was moved into Green Dorm, away from Helena and Jayne

I didn't want to leave them but knew that moving into Green Dorm was a wonderful step for me

I was right ~ I met the amazing Zetty and Shannon there

and got to take care of all the younger boarding girls.



The next year though, as senior of Green Dorm, I got to pick another senior

and of course, I chose Jayne.

Jayne to live down the hall from me, Jayne to have a precious window cubicle,

Jayne to help when the beautiful younger girls became brats,

And most importantly, Jayne because I wanted to know her better.



How do I explain the beauty of Jayne to you?



She has the biggest heart.

She is compassionate beyond belief. I cannot tell you how compassionate this girl is.

She puts others before herself always. She boosts and revitalises and saves people on a daily basis.

Sometimes, I wish she could see herself in the same space of compassion, and see herself as we see her:

immensely beautiful, a glorious human bean, loving, loveable, incredible, talented.

She is artistic, and heartfelt.

She has beautiful, overflowing journals. We would eat Tim Tams and sit in our pyjamas and journal merrily away.

We would have conversations during study time. Big conversations. Conversations about life and loving and growing.

She has beautiful flowing handwriting.

She used to have the biggest collection of paint markers that she mysteriously obtained from the art room at school.

We are both such stationery~heads.

She is strong and determined and fiercely loving.

She is a goddess incarnate.

Her room at home is vivid green.

She has a group of guys ~ "her boys" ~ who love her to bits and she loves them back. So beautiful to see such heartfelt cross~gender friendships.

She is the girl who ran barefoot for kilometres along a bitumen road after a runaway girl.

She is the woman who is growing into herself so beautifully.

She is a passionate writer and artist even when she berates herself.

My favourite weekend of all my boarding school days was that long weekend spent on her parent's huge cattle property.

We rode around on the backs of trucks and camped by the river.

We got drunk together in a dried up creek bed, surrounded by good people and an expansive sky.

It was beautiful, and I learned so much in that weekend from her, her land, and her friends.

She sent me an email which overwhelmed me with love and gratefulness:

just to say this blog had made her start writing again.

My heart leapt. The writing of Jayne is so important for this world.

I believe this with all of my innards.

Jayne is the reason I was drawn to crystals.

She had a horse accident, and was in great pain, and I had a vision of her with crystals lying on her back.

I went out and got some shortly after. Though I couldn't cure her pain, it opened a new world for me.

Jayne who left school to study journalism

and became a journalist at the leading state-wide rural newspaper.

Jayne, the cowgirl and Jayne, the city dweller.

Jayne, the girl and Jayne, the woman.

She has beautiful hair. Kind eyes.

The smile which lights a room.

Jayne is succulent in all its many realms.

A beautiful heart, a wondrous spirit, a growing consciousness.



Jayne, today I wish to honour the beauty and friendship you have brought into my life.

You are a true Goddess.

And I love you to bits.
.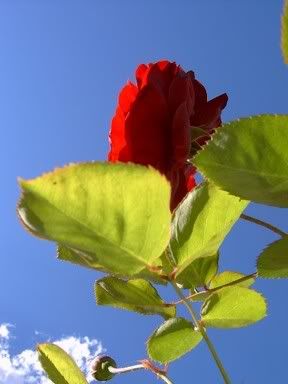 Garden in spring, 2004
Let us rise up and be thankful;

for if we didn't learn a lot

today, at least we learned a

little, and if we didn't learn

a little, at least we didn't get

sick, and if we got sick, at

least we didn't die; so, let us

all be thankful.

~ Buddha
Be thankful for what you have

and you will end up having

more. But if you concentrate

on what you don't have,

you'll never, ever have enough.

~ Oprah Winfrey



This week's breakthrough email made me joyous and grateful and just filled with warmth, love, growth.
Thank you for sharing the moment, Helena.
Wanted to share this with you all because it's such a valuable lesson for us all.
~
"Leonie!
Something just clicked. Just today. It really clicked.

Gratitude. The more I appreciate what I have the more I will have

because… well I'll realise that it is there.

It just all makes sense.

I have so much, so many wonderful people in my life.

Experiences, memories, moments.

It's all just there.
Thankyou for being a part of this ~

helping me to realise the importance of gratitude.
So much blogging to do this weekend!

Very exciting event occurred yesterday.

I'll put up all the details on Saturday.

By the way. Something special to share.

I was reading an article about this very wealthy couple the other day

and sort of thought

"oh wow wouldn't it be cool to be that rich and just be

able to buy whatever you wanted"

and absently minded I said to John

"do you think we'll be wealthy?"

he said to me. "We already are.

And we will only continue to become more so

the more love we share with ourselves and others".
It stopped me in my tracks.

And yeah he's right.

Love to you Onie.
Love Helena"
~
God. That's just a bloody good email

and such an amazing realisation.

I'm giving you a standing ovation hun 😉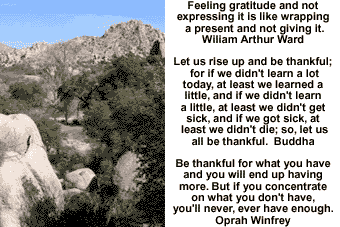 From Follow Your Dreams
The tragedy of life is not that it ends so soon,
but that we wait so long to begin it.
~ Anonymous
Breakthrough Email of the Week Award

goes to Helena
for her beautiful words on awakening to gratitude.
~
If I could ask you to do one thing for yourself, would you do it?
Go out. Get a blank book. A colourful book. A pretty book.
Or even just a lined paper book.
Cover it in stickers, your favourite pictures, or just your name.
Open it. And each night, or each day,
write ten things you are grateful for that day.
If it's been a shithouse day, it may even just be a good hot mug of tea
or the fact that the day is over.
Journal your gratefulness.
Just ten things ~ then you can say you have two handfuls of blessings.
Somedays your list will be longer, much longer than you could imagine possible.
There is so much to be grateful for in our lives, and writing it out every day will make you so much more aware of it.


~
You know what I am so so grateful for today?

1. Lile. Her heartfelt advice and words calmed my heart this morning.

2. Krispy Kreme donuts afternoon tea care of groovy co-worker.

3. Deb's sharing. Her teachings to me about self preservation, boundaries and energy vampires were well needed.

4. Beautiful email from Helena made my day. Sharing the breakthrough she'd had on gratitude, and seeing the beauty she has in her life. It was delightful to read. Her sharing taught me lessons within itself. After reading it, I got up, walked to Lile's desk and spontaneously gave her a hug. I just had to share the moment with someone.

5. Surprise phone call from Chris at 4.45, telling me to meet him at the record store just down the street. So I go. And I find a handsome dude hanging out at the heavy metal section, and decide I must keep him. So I do
6. Bought two beautiful instrumental CDs for painting and journalling time ~ Oceans of Tranquillity and Simple Pleasures. They are cheap, and they are delightful. Just what I dreamed of.
7. Beautiful surprise dinner with Chris at a Thai resturant, Zen Yai. My favourite meal of Phad Thai, in my favourite resturant with my favourite boy. I loved sharing it with him. We have decided to make one weeknight a week our "date night" and tonight was our first. It was just so damn nice to sit in the quiet resturant, watching the world finish work and drive home, while we sat in the cool, drinking green tea. Having quiet moments and long conversations. It was like catching up with a much loved friend, and falling in love again.
8. A blessing in itself: when we finally got home, the dog hadn't gnawed his leg off in hunger. Once home, he managed to get out through the fence, and just sat there outside our gate waiting for us to notice him. When Chris did notice him, he came when he was called and went straight back in the yard. I am so thankful that he didn't run onto the road or run away. Yay Charlie! We love you!
9. A package waiting for me on my balcony from the divine Lisa Marie. How sweet it is to be loved by you. I dressed in my favourite purple dress, lit some Bhagavad Gita incense, lit a strawberry candle, and took a few moments to express gratitude for the package and the love it was sent with. And then I opened. Art cards. The most amazing blue necklace ~ how can someone a world away who hasn't met me know my taste EXACTLY? Princess hairclips. A SARK card. Scented soap from Soap Opera. Mixed music CDs. And the most beautiful thing of all. A cassette tape. Not ANY old cassette tape. A cassette tape letter, spoken by Lisa Marie, to me. I cannot express to you how divine it was to hear her voice. It was like having a conversation with her. I was transfixed. She has the most beautiful, soft, girly but goddess~like voice. Giggly. Kind. Warm. It sounded so familiar. Lisa Marie is such a kindred spirit, and it was such an affirmation to hear her. Her telling stories of her day, of her reading poetry on a radio station. Interspersed with bursts of Celtic music and snippets of old movies her boyfriend was watching. Oooh. I just loved it. I love HER!

You should have seen me listening to it. It was the best entertainment I have had in yonks. I lay on my stomach in bed, face cupped in hands, staring out the window, just listening to her voice. It's the first time I have had someone send me a cassette letter, and it brought me so much joy.

Thank you dearest Lisa Marie for the immensely beautiful package, the necklace, the joy of hearing your voice. I am still in wonder. I can't wait to listen to it allllll. And then rewind and hear it all over again.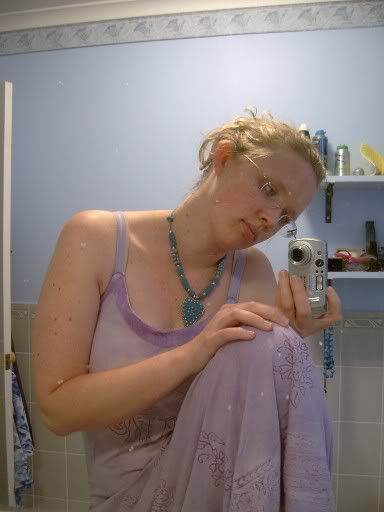 Me and my new neckplace. Like we'd never been apart.
10. You know what else I'm really grateful for? Sharing this journey with you. I receive such heartfelt responses from people. It is a delight and a joy. I love hearing from you all. You all are such incredible, divine beings, each doing work to make this world a better place. I believe in each one of you. I believe in me. Yes, we can grow. We can discover. We can give ourselves the love we seek. It's all there at our fingertips. We each have it. The capacity for joy is inside each of us. Always.
Joy is an option.
Love,

Leonie