Monthly Archives:
December 2004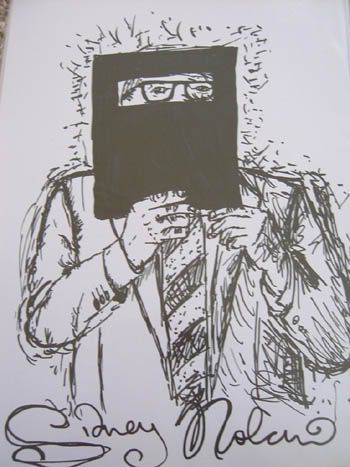 Pen drawing of Sidney Nolan. By me, 2002.
Went to the Art Gallery today with Mum,

and saw some gorgeous pieces ~ especially a whole room of Sidney Nolan's "Ned Kelly" series.

After we had finished looking at each, I took Mum to the centre of the room, and we turned, slowly,

seeing a whole panorama of colourful brilliance.


Sidney Nolan painting as hosted by NGA.
I'm quite tired, so won't write much more ~ but will leave you all with this lil story I love:
"The Wise Woman's Stone"

A wise woman who was traveling

in the mountains found a precious

stone in a stream. The next day she

met another traveler who was hungry,

and the wise woman opened her bag

to share her food. The hungry traveler saw

the precious stone and asked the woman to

give it to him. She did so without hesitation.

The traveler left, rejoicing in his good fortune.

He knew the stone was worth enough to give

him security for a lifetime. But a few days later

he came back to return the

stone to the wise woman.

"I've been thinking," he said,

"I know how valuable the stone is,

but I give it back in the hope that you

can give me something even more precious.

Give me what you have within you that

enabled you to give me the stone."

~ Author Unknown
Spread your joy with others less fortunate. Yes, there has been a great outpouring of support for charities, but we must try for a tsunami of love and compassion. Even if its small small small, it means big big big. Do it for what you believe in. We can change this world from our front step you know. I read this picture book today ~ Belonging by the amazing Jeannie Baker. And it showed how one person tending their city garden could change a whole street, a whole town.
May your New Year be wise and wonderful.
Love,

Leonie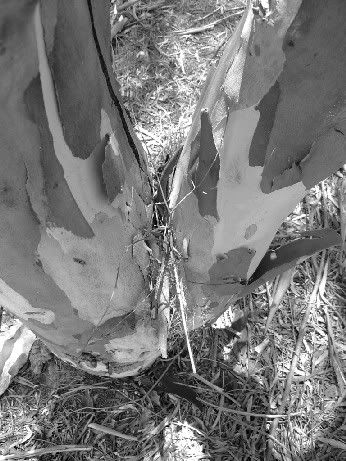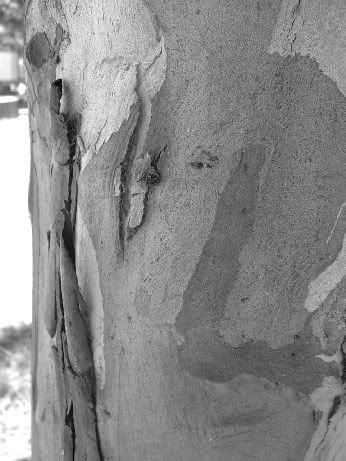 Trees today.
We are all unfolding

unravelling,

We are all in the process

of becoming

Unlooping our knots

shedding outer skins

trusting the world that we can show our inner world
We drive long into the forest, and it is regenerating from a firestorm of two years ago.

Black gums, young green undergrowth.
And we push, we move against old cycles, old trends,

We open hearts and reveal wounds that no longer need to be there
We find new spaces in our self

We find new homes that we cannot own ~ wilderness in our selves, and precious wilderness in the outer world that we can only visit, and breathe in its earthly depths
We are cherished by old love,

and cherished by new love.

Those that loved me from the very first breath and before ~ my elders, my parents.

And those that love me now, in this incantation, as I breathe as a living, conscious adult.

My partner talks with my father. My two men.
And I tap the words out. Sometimes they flow like a river, other times they halt and begin like a trickling creek.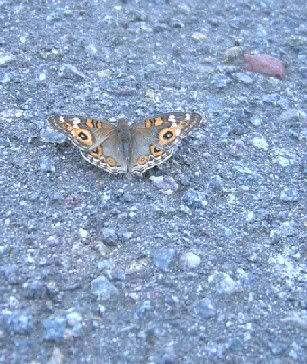 Butterfly on the path. Today.
All I know is that we are only here for a small while.

And that things are so incredibly fragile.

The human heart, and the human condition.

It is is all an unfolding, a gentle swaying reveal.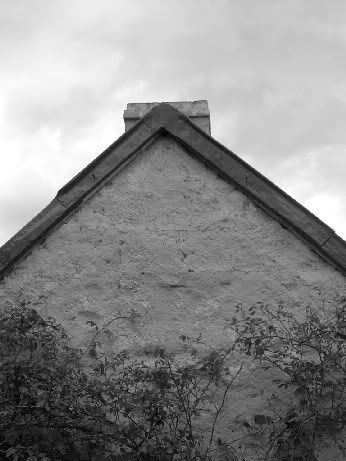 Lanyon Homestead roof…
Things have been good, really good.

I have so enjoyed the time with my parents ~ it has been the first time in living memory that they haven't had to rush off at a hundred miles an hour to work and tend to the cattle and do farmer things. Instead we have all been enjoying long sleep~ins, languid breakfasts over tea, trips out to different places, then returns home to afternoon nibblies, wine at 3 pm, long naps, tasty dinners that are lingered over for hours, discussions into the night and sleep when we can no longer keep our eyes open.

We have been to beautiful places:

the Australian War Memorial ~ solemn, touching, beautiful. it reduced my mother to sobs outside (i think it's a hereditary condition) and entranced my dad.

Lanyon Homestead ~ gorgeous old sheep property from the 1850s with original buildings. it takes me back to a different era, one of horses and carriages, fields and livestock…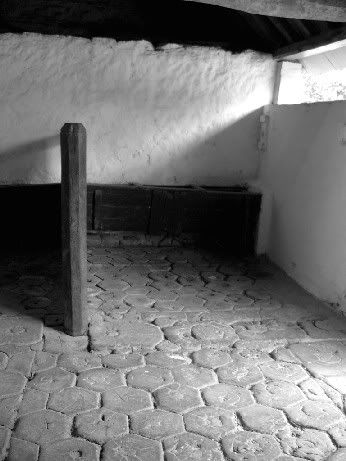 The old stables at Lanyon. I would love to have met the horses that lived in those stables so long ago…
today we went out to Gold Creek Village, and found such gorgeous lil shops ~

a beautiful fine art store ~ with some works costing more than a new car… but all immensely inspiring nonetheless!

an olden day lolly shop ~ filled to the rafters with little morsels of goodness, some I haven't seen since childhood. me, chris and dad lingered over the colours and the shapes before making our selections…

then we watched japanese ornamental carp in a pond.

I found a great new rainbow coloured mobile phone strap that I can put my security pass on at work… tee hee hee… I can't wait to get back to work now just to wear it joyfully about my neck! 😉

Then we looked through an Aboriginal art store which was sublime, and a beautiful little gallery filled with morsels of artistic goodness ~ it was the front part of a house converted, and it was just divine!


We crossed a creek, and came across a little pile of shops all in massively old wooden cottages… an alternative book and cd store which i would love to go back to and a wonderfully smelling leather store filled with trinkets and lovely things. It smelt like a saddle shed ~ something very dear to my heart.
So yes… all these beautiful little places
And out of my immediate life other things touch me too…

A comment from Gail which warmed my heart so much… thank you Gail!
And… the Tsunami disaster.

Words cannot describe the loss I feel.

May Mother Earth hold you all close to her bosom, and balm your stinging wounds.
Love,

Leonie