Every Sunday, we have a gorgeous ritual – we spend some or all of our Sunday being switched off from being online.
There's so many beautiful possibilities out there to jump on, dive in & relish… a time when we get to replenish our well, give ourselves what we need, and fill our luscious lives up with those things we really want to do.
This page is the Master List of all the gorgeous possibilities you can do on your Switch Off Sunday.
Possibilities for your gorgeous Switched Off Sunday!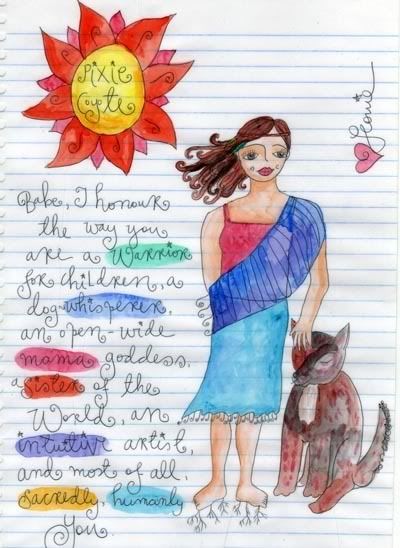 Have a portrait party with someone!
Get onto a Zen Your Life project & do some divine decluttering… make some room for magic and joy in your life!
Meditationaps are a gift from God/Great Spirit/ze luminous Goddess!
Do something where you need Creative Courage.
Use those e-course materials that you haven't totally soaked up yet.
Create a Scrap journal.
Go for a walk somewhere gorgeous in nature… is there a sacred mountain you can go to? A special tree?
Learn to knit! For helpsicles, check out my gorgeous friend Tara's Learn to Knit kit!
Is there a labyrinth near you that you can visit and walk?
Print & use the above permission slip whenever you require.
Write a letter. Or in your journal. Or on your hand. Let your pen fly free!
Finish reading that book you've been wanting to finish for yonks!
Have a creative picnic in the backyard or your bedroom
Bake something from scratch… or not so scratch!
Do something gloriously silly!
Got a book to write? A picture to paint? Now is the time, darlingheart!
Use this permission slip whenever you need…
Have you made a mermaid frame?
Create your gorgeous goddess goals!
Give yourself what you need:
Is it rest?
Silence?
Connection?
Laughter?
Creativity?
Cave Time?
Go for a walk or take a meditation-nap with your iPod playing some meditations
Journal like a hot journalling goddess
Make a To-Do list book
Create your own gorgeous Christmas stockings
Plant something in your garden… or if it is winter time where you are – on your windowsill!
Make a goddess statue out of clay
Sit in the sun and wind for ten minutes
Harvest some herbs
Have a half-day slumber party in your bed… with journals, books, music, oracle cards…
What's that thing you've been meaning to do for ages now? What's that thing you need to give yourself?
Make something gourmet for lunch! (Today I made gluten free spaghetti with a vegetarian tomato & basil sauce… holy delicious! We ate it in the garden & I felt oh so Italiano!)
Read poetry, SARK or a Mills & Boon. Variety is gorgeous 🙂
Do something unexpectedly sweet for someone you love
Write a letter
Do that one thing you've been meaning to do for about 18 months now
Nap/read in bed/read in the bath.
ROAD TRIP!
Find an old journal. Either reclaim it, write the final pages of it, or tear out & burn the pages that didn't get written in. You'll feel an amazing feeling of completion!
Make a space for fairies in your garden, or windowsill.
Make a herbal healing bath… crush up some lavendar heads, or drop in some chamomile tea bags… scrumptious!
Do some space clearing in your home.
Sort your bookcase by colour, theme, or alphabetically.
Watch an inspiring movie.
Write your Bucket List.
love you big time,